Unis have potential to build a new virtual Colombo plan, says Hon Michael Kirby
Published on 21 Mar, 2013
Media Contact:
For Immediate Release
CQUniversity recognised the vital need for innovation before most others. It reaches out to students who otherwise were beyond practical access to university degrees.
That is according to former High Court Judge Hon Michael Kirby AC, CMG who was addressing this week's Rockhampton Campus graduation ceremony (Thursday, March 21) after having the honorary degree of Doctor of the University conferred on him.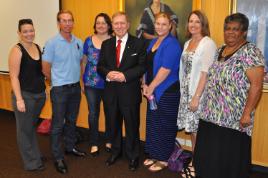 Hon Michael Kirby meets students enrolled in CQUniversity's Laws degree
Click here to View/Download full-sized Image
LINK HERE for the full guest speech by Hon Michael Kirby
"Increasingly, Australia's universities are teaching potentially huge audiences of students in Asia, the Pacific and Gulf States. These are students who thirst for education from native English speakers," said Mr Kirby, who served twice as Acting Chief Justice of Australia.
"CQU is well positioned to help meet that market. It is good now to see our politicians recognising this potential in our universities. It is a potential to take the CQU model far from Rockhampton so as to build a new virtual Colombo plan, providing access for students to institutions throughout our nation, to tap the high tertiary standards Australia offers.
"The universities of the future will not be fusty places of cobwebbed libraries and aged bunsen burners. They will be state-of-the-art technology connected to minds that have already adapted to the true challenge of using techniques of virtual classrooms to bring knowledge to millions who would otherwise have been deprived. Potentially, this will be a great equaliser.
"With our 'fair go' philosophy in Australia and 'our can-do' attitudes, we in Australia are well poised to meet this challenge. It will be good for our relationships with others. It will also be good for our economy."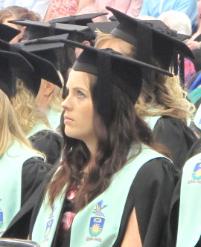 For many graduates, things are looking up for career prospects
Click here to View/Download full-sized Image
Around 220 graduates attended the CQUniversity graduation ceremony at the Community Sports Centre on Rockhampton Campus.
Honorary awards were conferred on Hon Michael Kirby (Doctor of the University), Australia's Auditor-General Ian McPhee PSM (Doctor of the University), agricultural researcher Andrew Rank (Honorary Doctor of Applied Science), and arts community stalwart Merilyn Luck (Companion of the University).
PhDs were awarded to seven graduates: Mary-Anne Jones (comparative study of water quality); Subhash Hathurusingha (biodiesel from beauty leaf trees); Sabine Flenady (cellular immunity in marsupials); Leonie Barnett (parasites of marine snails); Vineela Challagulla (bio-prospecting microalgae for oil production); Sadia Khan (solar photocatalytic disinfection of aquaculture systems); and Kenneth Bruce (professionalism of financial planners).
Graduating with a Bachelor of Music (Jazz and Popular) with Distinction, Ross Crear delivered the closing address on behalf of the graduates.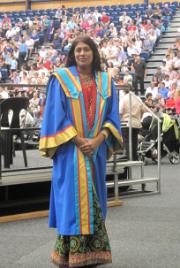 PhD graduate Sadia Khan
Click here to View/Download full-sized Image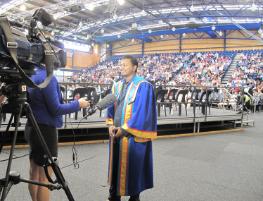 Phd graduate Subhash Hathurusingha sums up his feelings for a TV crew
Click here to View/Download full-sized Image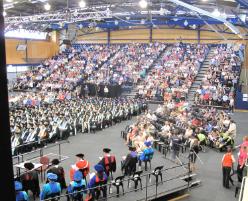 LINK for a larger image
Click here to View/Download full-sized Image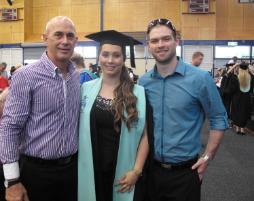 Steffanie Swain accepts congratulations after graduating with her Bachelor of Accounting/Bachelor of Business (Management)
Click here to View/Download full-sized Image
ENDS