Kiwis may get jump on Aussies in market for tourism's 'pink dollar'
Published on 19 Apr, 2013
Media Contact: Via 0418 774 295 or
For Immediate Release
New Zealand's decision to legalise gay marriage could see a spike in trans-Tasman tourism, according to a tourism expert...
Steve Noakes, Head of the Tourism and Hospitality program at CQUniversity, said frustrated Aussie same-sex couples could likely travel to New Zealand in their droves, giving the Kiwi tourism industry a healthy jolt.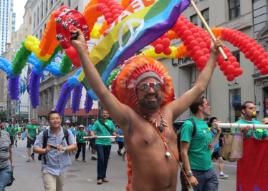 Gay and lesbian events may be a bonus for tourism
Click here to View/Download full-sized Image
He was speaking this week from the global conference of the United Federation of Travel Agents' Associations currently being held in Kuala Lumpur.
"The power of new technologies and social network marketing is already opening up new niche market opportunities that mainstream travel agents are wanting to sell, such as tour products suited for the same-sex traveller market," Mr Noakes says.
"The same-sex travel market is not new," explained Noakes, noting the International Gay & Lesbian Travel Association (IGLTA) based in Florida was started 20 years ago in 1983 by gay and lesbian travel agents. It now operates in over 80 countries on all six inhabited continents.
"Research indicates that the gay and lesbian travel market is a higher yielding sector than most others.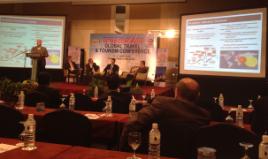 Steve Noakes has been attending an international tourism conference
Click here to View/Download full-sized Image
"Danish scholars Ballegaard and Chor found in 2009 that while the diverse travel motivations of homosexual people seem to be in line with those of heterosexual tourists, aspects of feeling safe and accepted, frequenting gay space, and meeting at gay/lesbian events are important while they are on holiday. Gays and lesbians might avoid certain destinations because of their sexuality.
"Research in the USA indicates that the gay/lesbian tourist will spend around US$1000 more on their holiday travel than does his/her heterosexual counterpart. 'This market also seems to take more holidays more often than their heterosexual counterparts," Mr Noakes says.
He says that gay/lesbian tourism is, first and foremost, tourism.
"While gay/lesbian tourism is a niche market, it still operates under the same business environment that mainstream tourism does.
"Successful destinations are those that provide the quality of service and experience their markets want - no matter what the customer's nationality, colour, religion, race or sexual orientation may be."

Steve Noakes
Click here to View/Download full-sized Image



ENDS