Call for action on agricultural labour supply, CQUni's Bundaberg initiative 'vindicated'
Published on 17 Nov, 2011
Media Contact: Professor Phil Brown via 0408 523 894 or 07 4150 7145 or
For Immediate Release
CQUniversity has thrown support behind the Regional Universities Network call for a national response on the widening gap between agricultural labour supply and demand.
Dean of Medical and Applied Sciences Professor Grant Stanley says this call to action vindicates CQUniversity's new science degree in 'Agriculture and Food Science', starting next year at Bundaberg Campus.
LINK HERE for a copy of the Regional Universities Network release
The Network's full submission can be accessed here: (PDF 357KB)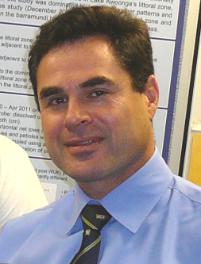 Professor Grant Stanley
Click here to View/Download full-sized Image
"It vindicates our intention of providing programs that will produce sought-after graduates for regional Australia. The proposed Higher Education Agriculture Innovation Fund is a welcome initiative and would provide much needed support for both education providers and industry," Professor Stanley says.
CQUniversity will offer this fresh science specialisation from next year, along with new 'Ecology and Conservation Biology' and 'Analytical and Molecular Science' streams, which are also geared to the needs of regional communities.
These new options will be available on campus and by supported distance delivery, giving students flexibility in how they study.
Professor of Horticultural Science Phil Brown says Bundaberg is the ideal location to base an Agricultural and Food Science program as the region produces horticultural and sugar cane crops worth well over half a billion dollars each year.

Professor Phil Brown
Click here to View/Download full-sized Image
"Food production is also one of the biggest employers in the region. Students will have the opportunity to undertake work integrated learning, taking advantage of our location in a major production centre to gain first hand knowledge of the industry," Professor Brown says.
"Queensland needs more graduates to support its agricultural and food industries. Ensuring the food industry in Queensland continues to grow will require innovative people able to develop and implement new practices that increase productivity and profitability along the food supply chain while maintaining or improving our soils, water supplies and natural environment.
"Science will provide many of the answers to the challenges of developing and expanding sustainable food supply systems in a changing climate and in a global marketplace where population and demand for food are rising rapidly."
Professor Brown says job prospects for graduates in the agricultural and food science area are excellent.
A 2010 national survey found over 5000 jobs per year were advertised in Australia where university qualifications in agriculture were desirable, yet Australian universities currently produce less than 800 graduates per year with agricultural science and agribusiness qualifications.
"Bundaberg is fast becoming a hub for agricultural skills training and education in Queensland," Professor Brown says.
"The CQUniversity degree adds a new dimension to an already impressive set of rural education and skills programs delivered in the Bundaberg region at school, college, TAFE and grower group levels."
Details about the new science specialisations are available via 13CQUni (13 27 86).
ENDS