High-fidelity training a siren call for future paramedics
Published on 14 Mar, 2013
Media Contact:
For Immediate Release
CQUniversity's new teaching ambulance is just one of many factors which put the Paramedic Science degree at the forefront of high-fidelity training and simulation....
The Queensland Ambulance Service was so impressed with the CQUniversity students during their clinical rotations that 23 third-year students have already been offered casual work with the agency.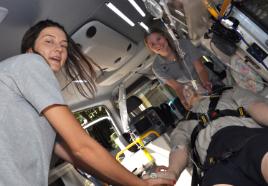 Paramedic Science students Cassie Fraser (left) and Skye Krobath helped demonstrate the vehicle's equipment
Click here to View/Download full-sized Image
LINK also to A crash course can be helpful for Paramedic students OR Learning 'cuts through' when you've got to face up to realism
Meantime, the degree has attracted more than 380 students, with 75% enrolled via distance education from as far afield as Palm Island and Tasmania and, in one case, from Chiba in Japan. Distance students are able to attend residential schools for hands-on activities.
The John Villiers Trust* Teaching Ambulance has been coach-built and fitted out in line with ambulance services throughout Queensland, so students will get a feel for working in a functional vehicle before going on clinical placements.
Paramedic Science senior lecturer Anthony Weber says the vehicle is valued around $240,000. It will be used by first-year students as an orientation to the ambulance and ambulance equipment, the second-year students will utilise it for performing procedures and skills in the back of a moving ambulance, and the third-year students will use it for advanced scenarios.
"All scenarios will be recorded and students will reflect and be debriefed on their performance," Mr Weber says.
"We are the only Australian university offering the Paramedic qualification through distance education, using innovative techniques and equipment to facilitate blended learning for both our distance and on-campus students.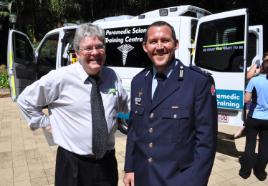 Paramedic Science Professor Brian Maguire welcomes VIP guest Warren Kellett, Executive Manager Mines, Queensland Ambulance Service
Click here to View/Download full-sized Image
"Our simulation labs feature state-of-the-art $150,000 high-fidelity manikin systems, and we employ moulage trauma make-up techniques, rural and metropolitan industry placements, and Profesor Kerry Reid-Searl's MASK-EDTM techniques to further inject realism into our teaching."
CQUniversity offers conversion degrees for existing paramedics looking to update and upgrade their qualifications, including several streams of specialisation to accommodate the various aspects of professional development. Our Occupational Health and Safety Specialisation for paramedics is the only one of its kind in the world.
"We're also involved in research and contributing to the further development of the profession," Mr Weber says.
* Signage on the ambulance recognises support from the John Villiers Trust. John Villiers was a Queensland pastoralist who supported various charities through his lifetime and bequeathed his estate to enrich the lives and social spirit of Queenslanders.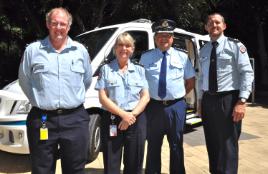 At the launch was Acting Assistant Commissioner of Central Police Region Steve Hollands (second from right) with L-R Steven Coombs, Michelle Baxter and Warren Kellett from the Queensland Ambulance Service
Click here to View/Download full-sized Image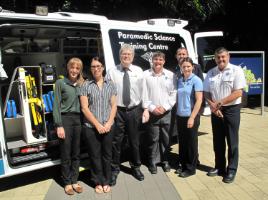 L-R Lisa Hurring (Paramedic Science Lecturer), Rae Jackson (Paramedic Tech), Professor Brian Maguire (Paramedic Professor), Anthony Weber (Senior Lecturer & Program Leader), Warren Kellett (QAS Executive Manager for Mines), Geraldine Rolfe (Paramedic Tech), Daryl Holley (Lecturer)
Click here to View/Download full-sized Image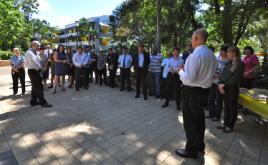 VC Scott Bowman addresses the launch gathering
Click here to View/Download full-sized Image
ENDS