Workers, sailors and fishers fingered for rubbishing harbour
Published on 02 Apr, 2012
Media Contact: For interview please call Scott Wilson 0424 165 494 or 4970 7605 or
For Immediate Release
Gladstone Harbour is fringed by industry, has plenty of international shipping and is a popular crabbing and fishing venue.
So it's no surprise that a year-long beach shoreline debris study has revealed a large proportion of shipping-related rubbish of foreign origin, plenty of fishing line and crab-pot rope, and an assortment of ear plugs, hard hats, gloves, industrial lights and boots.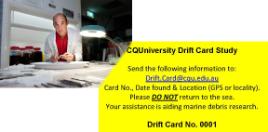 LINK for a larger image of Dr Scott Wilson and one of his 'drift cards'
Click here to View/Download full-sized Image
Most debris on shorelines came from water-borne sources. Plastics made up the vast bulk of rubbish found overall, at 88% of the 6777 items collected.
While marine debris was prevalent at all locations surveyed, it was not at extreme levels, according to CQUniversity researcher Dr Scott Wilson.
"However, marine debris is an issue and will likely increase with the growth in urban and industrial activities," he said.
Further studies, including a drift card study*, are planned to take place in the coming months to expand on this baseline data set, plus provide further detail on the sources and movement patterns of this debris.
"This data will allow for more informed management of this key threatening process and, along with greater public education and awareness, may limit inputs of marine debris in future."
Dr Wilson carried out his quarterly surveys on Facing Island and Fisherman's Landing, and later extended the study to Chinaman Island (also within the Harbour).
He acknowledges help from staff and volunteers of the Conversation Volunteers Australia, as well as colleagues at CQUniversity Gladstone Campus.
Dr Wilson's initial recommendations include a curb in the use of plastics and encouragement for correct recycling; increased awareness of the marine debris issue (including targeted campaigns); an examination of social attitudes with a view to changing perceptions; and improved storm water devices and pollutant traps.
* Drift cards are scheduled for release soon. If you find one in the water please leave and only collect and report on those found washed ashore.
ENDS