CQUni consultation for Reconciliation launched
Published on 30 May, 2013
Media Contact: Media contact via or 0400 646 563
For Immediate Release
The spirit of Reconciliation Week (May 27-June 3) is alive and well in CQUniversity.
The Office of Indigenous Engagement selected Reconciliation Week to launch its consultation process towards developing CQUniversity's Reconciliation Action Plan (RAP).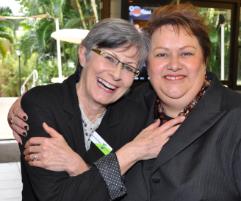 CQUni Council member Dr Robyn Minchinton with Professor Bronwyn Fredericks from the Office of Indigenous Engagement
Click here to View/Download full-sized Image
The theme for this year's week is 'Let's Talk Recognition' which focuses on how Australians can better recognise each other and recognise the histories of Aboriginal and Torres Strait Islander peoples.
Professor Bronwyn Fredericks, Pro Vice-Chancellor (Indigenous Engagement) and BMA Chair in Indigenous Engagement said that "starting off CQUniversity's Reconciliation Action Plan consultation this week through talking offers us all a time to reflect on our histories, cultures, contributions and achievements and what we want for the future".
The consultation will be based on CQUniversity's Reconciliation Statement developed in 2002.
"When the Statement was developed, the University was one of the few universities with such a commitment to meaningful partnerships with Aboriginal and Torres Strait Islander people. It is time now to re-energise the Statement into a Reconciliation Action Plan," explained Prof Fredericks.
Staff, students, Elders and community members were encouraged to provide feedback on what should be in the Plan, both verbally and by writing down ideas on a long sheet of paper stretched across several tables. Professor Fredericks said the 'consultation' would happen in other parts of the CQ region in coming months to give a wide range of people input.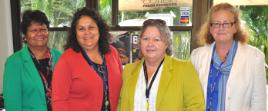 L-R Dena Dodd-Ugle (CQUni Office of Indigenous Engagement) with Barbara Hatfield from Qld Health and CQUni staff members Julie Mann and Sandi Worsley
Click here to View/Download full-sized Image
The launch, talk of reconciliation and recognition of shared histories was shared over the tastes of emu, kangaroo and crocodile cooked in contemporary styles. For example, the menu included crocodile in rice paper rolls with pineapple chilli dressing, emu san choi bow and more. For some people this was the first time they had tried Indigenous foods.
Other CQUniversity Reconciliation Action Plan consultation events will be held in Mackay, Bundaberg and Gladstone and through ISL links to other campuses. For details visit www.reconciliation.org.au/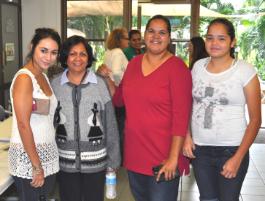 Sandra Creamer from CQUni's Office of Indigenous Engagement (second from left) with L-R CQUni students Kiha Bonney and Donna Reid, and Yeppoon High student Ivannah Stanley
Click here to View/Download full-sized Image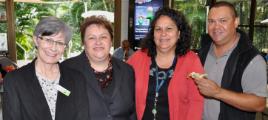 CQUni Council member Dr Robyn Minchinton, Professor Bronwyn Fredericks from CQUni Office of Indigenous Engagement, Barbara Hatfield from Qld Health and Alan Bird, Darumbal Community Youth Service
Click here to View/Download full-sized Image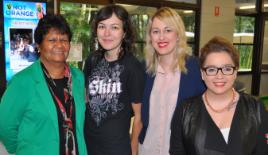 Dena Dodd-Ugle from CQUni's Office of Indigenous Engagement with Samantha Lawson and Heidi Lawson from the Iman Nation and their friend Carrington Edwards
Click here to View/Download full-sized Image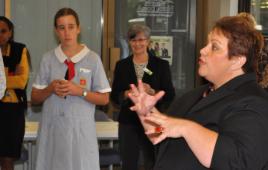 Professor Bronwyn Fredericks addresses participants in the consultation event
Click here to View/Download full-sized Image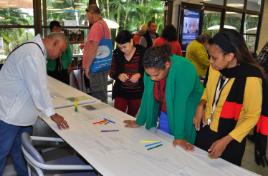 Participants were encouraged to write ideas on a long table
Click here to View/Download full-sized Image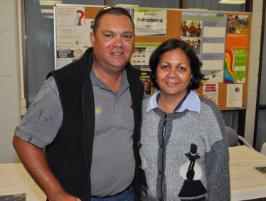 Alan Bird from Darumbal Community Youth Service with Sandra Creamer from CQUni Office of Indigenous Engagement
Click here to View/Download full-sized Image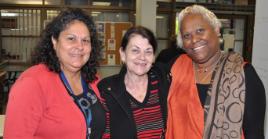 Barbara Hatfield from Qld Health with Narelle Pasco (representing the National Congress of Australia's First People) and Kaylene Butler from Kima Consultant
Click here to View/Download full-sized Image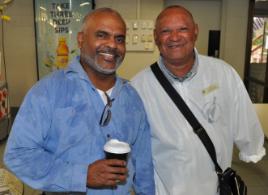 Didgeridoo player Mick Ambyrum with Clem Domic from Glenmore Primary School
Click here to View/Download full-sized Image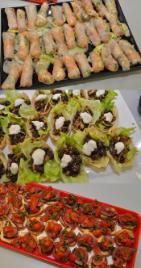 Special foods included (from top down) croc in rice paper rolls, emu san choi bow and kangaroo
Click here to View/Download full-sized Image
ENDS