Smartphones may help us get our digits out to walk the talk
Published on 01 May, 2012
Media Contact: For details or interview please call Morwenna via 0428 999 072
For Immediate Release
Smartphones may enhance health behaviours of people using website-delivered physical activity programs.
That's according to researchers associated with CQUniversity's Centre for Physical Activity Studies*, who have had their findings published in the prestigious Journal of Medical Internet Research (with lead authorship by Morwenna Kirwan).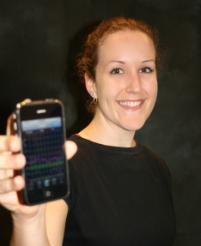 Researcher Morwenna Kirwan has been checking if smartphones can boost health behaviours in concert with website-delivered programs
Click here to View/Download full-sized Image
The research team arranged for a sample of people registered with the 10,000 Steps** website to use a new iStepLog application on their smartphones.
The smartphone group logged steps on an average of 62 days, compared with 41 days in the non-phone group. Use of the application was associated with increased likelihood to log steps daily, and also with increased likelihood to log greater than 10,000 steps on each entry.
The researchers concluded that smartphone applications may assist in maintaining participant engagement and behaviour change. However, they recommend more expansive research to replicate the findings.
The iStepLog application was designed to allow members of the 10,000 Steps program to record their daily physical activity levels on their mobile device and synchronise this with their online Step Log.
Other researchers involved in the study were Dr Mitch Duncan, Dr Corneel Vandelanotte and Dr Kerry Mummery.
# # #
* Part of the Institute for Health and Social Science Research (IHSSR).
** Queensland Health provided funding to CQUniversity for the development of 10,000 Steps. The iStepLog application was funded by 10,000 Steps.
ENDS