Hundreds take part in family violence prevention forum
Published on 11 May, 2012
Media Contact:
For Immediate Release
More than 100 participants took part in the 8th annual Indigenous Family Violence Prevention Forum 2012, hosted by the Queensland Centre for Domestic and Family Violence Research (CDFVR) at the Mackay Entertainment and Convention Centre (MECC) recently.
Guest speaker Venessa Curnow said a stronger connection to past generations and embracing culture will help reduce violence in Indigenous families.
"Since I was young I've had a special bond with older people in my family; I enjoyed listening to their stories," Ms Curnow says.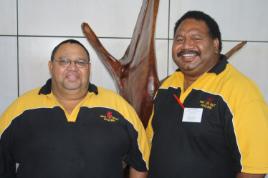 Tom Powell and Randall Ross, presenters of the Red Dust Healing workshop at the Queensland Indigenous Family Violence Prevention Forum.
Click here to View/Download full-sized Image"They are our living link to knowledge from past generations - healthy older people are crucial to healthy communities."
Currently working as a National Aboriginal and Torres Strait Islander Liaison Officer for Alzheimer's Australia and secretariat for the National Aboriginal and Torres Strait Islander Dementia Advisory Group (NATSIDAG), Ms Curnow is also a director on the National Congress of Australia's First People's board.
She has been involved in the health and aged care industry for the past 16 years and has held various positions as a registered nurse, clinical nurse and consultant in urban, rural and remote areas.
Ms Curnow was one of the many inspiring guest speakers including Tom Powell, Randall Ross, Ed Mosby and Gil Thomsen, who participated in the forum entitled 'Culture and Healing - the hard yarns'.
The forum incorporated two days of workshops, healing sessions and open discussion.
CDFVR Director Heather Nancarrow, who is based at CQUniversity Mackay Campus, said the program gave Aboriginal and Torres Strait Islander people the opportunity to highlight and celebrate the good work that they are doing themselves within their communities to end domestic and family violence.
The forum gave support to Aboriginal and Torres Strait Islander people in sharing information and knowledge about strategies and programs that they can take back to their communities.
ENDS