CQUniversity and CQ NRL Bid announce partnership
Published on 30 Sep, 2011
Media Contact: Chris Veraa: 0419 392 303, OR Marc Barnbaum: 0409 196 039,
For Immediate Release
Two of Central Queensland's biggest brands - CQUniversity and CQ NRL Bid - have today joined forces to promote better educational and sporting opportunities throughout the CQ region and beyond...
The University and the bid team, represented by CQUniversity Vice-Chancellor Professor Scott Bowman and CQ NRL Bid Chief Executive Denis Keeffe, have signed a Heads of Agreement aimed at furthering the causes of both organisations and the region as a whole.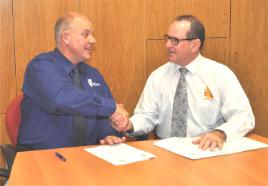 Vice-Chancellor Professor Scott Bowman and CQ NRL Bid Chief Executive Denis Keeffe at the formal signing
Click here to View/Download full-sized Image
The agreement includes commitments from CQUniversity to provide academic scholarships for CQ NRL players and support for Indigenous players through its Nulloo Yumbah facility, as well as a commitment from CQ NRL Bid to give CQUniversity 'major sponsor' status for the bid.
Professor Bowman said the new partnership provided a great opportunity for both organisations to promote the diversity of the Central Queensland region.
"When most people think of Central Queensland, they're likely to think of beef cattle and mining - which is part of our identity, but doesn't represent the full extent of what we have to offer as a region," Professor Bowman said.
"In coming together with Denis to promote CQUniversity and CQ NRL Bid side-by-side, we are demonstrating to the rest of the nation that Central Queensland is home to a world class University and is a very strong prospect for NRL team contention.
"We look forward to providing CQ NRL Bid with access to our academic resources and sporting facilities across our five Central Queensland campuses, and we look forward to working with CQ NRL Bid in promoting the University to a wider audience."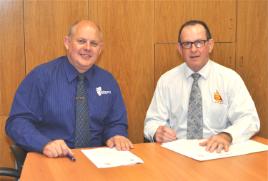 Vice-Chancellor Professor Scott Bowman and CQ NRL Bid Chief Executive Denis Keeffe at the signing ceremony
Click here to View/Download full-sized Image
Mr Keeffe said it was great to have another major CQ brand on board as a partner in the bid process.
"Rugby league is clearly the dominant football code in Queensland, and nobody is more passionate about the game than Central Queenslanders," Mr Keeffe said.
"CQUniversity has always been extremely supportive of the bid for an NRL team in Central Queensland, and it is fantastic to finally formalise our relationship with the Uni in this way.
"Through our connections with current and past NRL players, we will be assisting CQUniversity to recruit ambassadors from the rugby league world, which will help to broaden interest from potential students.
"In return, we will be leveraging the University's world class academic resources to better educate our players and bid team staff, as part of our commitment to lifelong learning.
"I am very pleased to welcome CQUniversity as a major sponsor of the CQ NRL Bid."
CQ NRL Bid is focused on promoting Central Queensland as one of the most economically prosperous and liveable regions in Australia, in an effort to see a CQ sporting team finally represented in a national competition - in this case, the National Rugby League.
CQUniversity is one of Australia's most engaged universities, with 10 campus locations across Australia, including Mackay, Rockhampton, Gladstone, Bundaberg , Emerald, Brisbane, Sydney, Melbourne, the Gold Coast and Noosa, as well as a new research site in Adelaide.
ENDS