CQUni teachers at forefront of Cape York school reforms
Published on 19 Jan, 2012
Media Contact:
For Immediate Release
It may be thousands of kilometres away, but CQUniversity Noosa Campus is part of an Indigenous education revolution taking place across Cape York...

Since 2009, past and present CQUniversity education students have been at the front line of teaching reforms directed by the Cape York Aboriginal Australian Academy (CYAAA) that have been closing the gap between Indigenous and mainstream schoolchildren.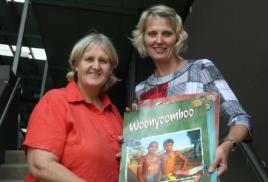 L-R CQUniversity Bachelor of Learning Management (Primary School) graduate Juliet Greenlees with program head Susan Richardson
Click here to View/Download full-sized ImageCYAAA Executive Principal Cindy Hales says CQUniversity has been helping secure the educational future of a generation of Indigenous children by providing the region with access to quality teachers.

"We need teachers who are confident in their skills and enthusiastic about building community relationships and learning about local Indigenous culture," Ms Hale said.

"CQUniversity has always supported our schools because they appreciate the context in which we operate and what we hope to achieve.

"They invite us down to provide information about our placements to their students first hand and ensure that their decisions to come here are the right ones.

"There is also a very close connection between CQUniversity lecturers and students, which nurtures aspiring teachers' individual capabilities and talents."

CQUniversity placed three student teachers in the Cape York communities of Aurukun, Coen and Hope Vale during 2011, with all returning to commence their teaching career in the remote Indigenous schools as permanent teachers.

In Aurukun alone, up to 10 of the school's teaching staff are current or former CQUniversity students; while another three graduates also secured teaching positions in the FNQ region.

One of those is Bachelor of Learning Management (Primary School) graduate Juliet Greenlees.

"My driving passion is to help communities move ahead through education," the 50 year-old former Tewantin resident said.

"Working in Aurukun can be very challenging, but also extremely rewarding.

"Seeing children learn how to read, the joy they experience and how proud they are of themselves - there is nothing more exciting for a teacher than witnessing that love of learning."

CQUniversity Bachelor of Learning Management (Primary School) head Susan Richardson says the program is structured to give students an insight into teaching in a range of environments.

"We have a broad focus on different types of learners and how they respond to a variety of education methods," Ms Richardson said.

"There is also a strong emphasis on giving students practical experience in the classroom as soon as possible.

"We're very proud that this approach is producing teachers that are playing a huge role in shaping the futures of Indigenous children in Far North Queensland.

"Like all Australian children, they have the right to a quality and meaningful education."

L-R CQUniversity Bachelor of Learning Management (Primary School) graduate Juliet Greenlees with program head Susan Richardson.
Click here to View/Download full-sized Image
ENDS