Queensland workplaces challenged to 'step' up and be counted
Published on 09 Jan, 2013
Media Contact: For interview please contact Dr Mitchell Duncan via email:
For Immediate Release
There's no doubt that increasing the levels of physical activity in our lives is a challenge but the workplace can now provide some important steps towards success...
The 10,000 Steps program is conducting the 10,000 Steps Workplace Challenge which may be the key to a healthy change. Potential participants can access www.10000steps.org.au or phone 07 4930 6751 for details.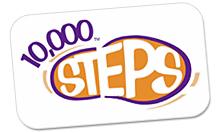 Click here to View/Download full-sized Image
As the physical demands in the work environment have reduced, the factors which can lead to poor health have increased. It's clear that if we want a healthy, productive workforce, physical activity is important for everyone. Research shows that workplace wellness programs can improve employee productivity, morale and motivation. Focusing on increasing physical activity in the workplace is a great place to start.
The 10,000 Steps Workplace Challenge involves teams completing 'virtual' walking journeys.
Some workplaces like to add some extra 'healthy' competition into their challenge, pitting branch against branch or department against department.
The distance walked is tracked using a 10,000 Steps pedometer and a Journey Map. Participants are welcome to choose from an existing journey or you can tailor a challenge to suit. Challenges range in length from three to 12 weeks.
The only cost involved is for the purchase of pedometers. Some employers choose to pay for the pedometers or to subsidise the cost. Others prefer employees to pay for their pedometers. The 10,000 Steps pedometers are reasonably priced and of good quality and discounts are available for bulk orders.
Participants will receive support each stage of the challenge and will have access to some great resources via the 10,000 Steps website.
10,000 Steps is a joint Australian and State initiative under the National Partnership Agreement on Preventive Health, headquartered at CQUniversity.
ENDS