'Circus Skills' tour ends with a flourish
Published on 30 Nov, 2012
Media Contact:
For Immediate Release
School kids and residents in the regional Queensland towns of Woorabinda, Baralaba, Eidsvold and Mount Morgan recently had the chance to learn circus skills, with the help of two professional trainers from Brisbane's Flipside Circus, as part of an Artists in Residence program.
The Flipside Circus trainers spent two weeks in each community, where they worked with schools, community organisations, community members and families to develop their circus skills. Each program concluded with a community performance.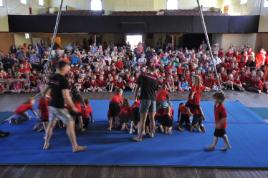 Mt Morgan comes alive thanks to the Circus Skills tour
Click here to View/Download full-sized Image
Mt Morgan was the final community to take part and the program ended with a flourish with a public performance in the local School of Arts hall.
About 80 students participated at each school in Woorabinda, Baralaba and Eidsvold and around 230 students were involved in Mount Morgan (including a class from birth-four years). In total, around 470 students participated in the workshops, held in the four communities over an eight-week period.
Artists in Residence is a collaborative project between CQUniversity's Widening Participation team, Creative Regions (a regional not-for-profit arts management and production company) and Creative Capricorn (a joint initiative of the Australia Council for the Arts, Arts Queensland and Rockhampton Regional Council). It aims to highlight students' achievement in the circus workshops to inspire longer-term interest in the Arts and engagement in education.
CQUniversity's Widening Participation Program Manager, Stacey Wallace, says the program aims to enliven local communities to participate and celebrate possibilities through the Arts and to promote lifelong learning.
Director of Creative Regions Rod Ainsworth says: "We're aiming to establish longer-term relationships with communities to support their artistic and cultural development, and to encourage educational participation through engaged learning."
Chair of Rockhampton Regional Council's Communities Committee, Cr Rose Swadling, says it was a wonderful opportunity for the young people of Mount Morgan to be included in a regionally focused opportunity.
"I think this was a great opportunity for Mount Morgan. We all know that involvement in the Arts is great in terms of educational outcomes for young people and in bringing the community together."
This program was supported by Arts Queensland, Creative Capricorn, Australia Council for the Arts, Rockhampton Regional Council, Central Queensland Indigenous Development and Flipside Circus.
ENDS