CQUniversity's 'bush lawyer' degree praised by Hon Michael Kirby in national legal journal
Published on 08 Sep, 2011
Media Contact:
Embargoed Until:
CQUniversity's new Bachelor of Laws has received glowing praise from Australia's pre-eminent legal figure, former High Court Judge The Hon Michael Kirby AC CMG, in the latest edition of the Australian Bar Review.
In his article Online legal education in Australia: The new CQU law degree, Mr Kirby writes that CQUniversity's online-focused law degree will be a drawcard for students from non-traditional backgrounds - many of whom are likely to 'give back' to rural and regional Australia upon graduation.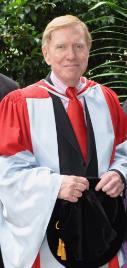 The Hon Michael Kirby AC CMG
Click here to View/Download full-sized Image
"The fact that the CQU course will provide its instruction online will make enrolment and participation possible for some undergraduates who might otherwise find it difficult, or impossible, to enrol in a law course," he states.
"One hope of the CQU degree is that, by catering online to students in remote regional and rural districts, in the vast outback regions, it will prove easier to retain talented and qualified employees in regional and rural Australia.
"To some extent, bringing the university to the student may prove a way to overcome this drift to the cities."
Mr Kirby states that the distance-driven degree is also likely to appeal to students from Indigenous, ethnic and disadvantaged backgrounds, because of its accessibility and flexibility, and the opportunity to study by distance and stay close to family and other support networks.
CQUniversity Vice-Chancellor and President, Professor Scott Bowman, said this latest vote of confidence from Justice Kirby confirmed that the University's law degree was on the right track.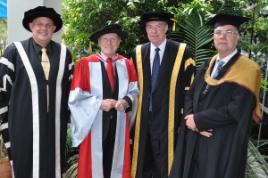 Hon Michael Kirby (second from left) pictured earlier this year with Professor Scott Bowman, Acting Chancellor Charles Ware and Dean of Commerce and Law Robert Fisher
Click here to View/Download full-sized Image
"Law and legislation pervades everything we do in Australian society, however traditionally the study of law has only been offered at a relatively elite level," Professor Bowman said.
"In the interests of broadening participation in studying law, particularly by people from backgrounds that are currently under-represented in the Australian legal profession, we have created the Bachelor of Laws - a truly inclusive and flexible path to a career in this exciting field."
Professor Bowman said graduates, if they sought to practice in regional, rural and remote areas that often have limited access to such services, could wear the "bush lawyer" tag with pride.
The Australian Bar Review article outlines problems and challenges presented by an online degree. Professor Bowman said that CQUniversity was addressing these challenges and was determined to achieve both high standards and user-friendly teaching in rolling out its new law degree.
CQUniversity began offering its Bachelor of Laws in 2011, with a first-year enrolment of around 100 students. The three-year degree can be studied by distance online, with participants able to pursue a career as a barrister, solicitor, judicial officer, in-house counsel or many other options upon graduation.
The Hon Michael Kirby was Australia's longest serving judge. His appointment to the High Court in 1996 lasted 13 years, up until his retirement in 2009. He has been Acting Chief Justice of Australia twice.
CQUniversity is one of Australia's fastest growing, and most engaged, universities. The University has one of the country's largest geographic footprints, with campuses in Rockhampton, Mackay, Gladstone, Bundaberg, Emerald and Noosa, and metropolitan campuses in Sydney, Melbourne, Brisbane and the Gold Coast.
ENDS