Quest for healthy soils earns Sandrine national recognition
Published on 12 Mar, 2013
Media Contact:
For Immediate Release
CQUniversity researcher Dr Sandrine Makiela's quest for healthy soils has earned her the 2013 Science and Innovation Award for Young People in Agriculture, Fisheries and Forestry.
The $20,000 award supported by Horticulture Australia was presented recently during the Australian Bureau of Agricultural and Resource Economics and Sciences (ABARES) Outlook 2013 conference dinner, among other presentations to Science Award and Biosecurity Award recipients.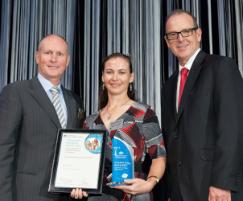 Dr Sandrine Makiela receives her award from ABARES Chief Scientist Dr Kim Ritman (left) and Agriculture Minister Senator Joe Ludwig
Click here to View/Download full-sized Image
Sandrine says her focus is on sustainable farming techniques that are not heavily reliant on fertiliser.
"As a farmer myself, I have an inherent interest in sustainable production systems and the basis of all sustainable farming is healthy soils," she says.
With the help of the award funds, Sandrine's research will investigate how soil microbial communities change over the growing season, using cucumbers as a model horticultural crop. By comparing the microbial status of the soil under organic and conventional practices, the project will shed light on soil health in horticultural systems.
Sandrine would like to hear from cucumber growers (both conventional and organic) who could contribute to the study. She is contactable via s.makiela@cqu.edu.au .
"This research will complement my other research on soil health in grain and grazing systems to give us a clearer picture of soil health across the major farming sectors," she says.
The conference website reports that, beyond academic publication in the field of soil microbiology, Sandrine will run seminars for producers and develop research summaries on the implications of her findings.
With a better understanding of soil health throughout the growing season, producers will have more information with which to guide their farming practices.
Sandrine hopes that the knowledge gained through her research will ultimately lead to productive, healthy soils and farming practices that free farmers from a heavy reliance on fertilisers.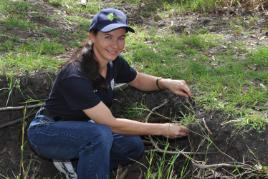 Soils ain't soils ... Sandrine in the field
Click here to View/Download full-sized Image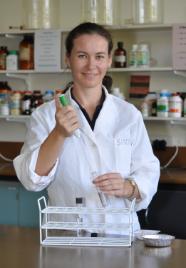 Sandrine in the lab
Click here to View/Download full-sized Image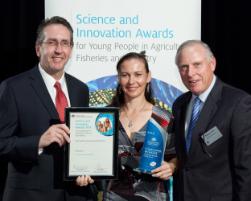 Sandrine is congratulated by L-R Horticulture Australia Ltd CEO John Lloyd and Horticulture Australia Board Chair Selwyn Snell
Click here to View/Download full-sized Image
ENDS