Uni helps brand Beef Australia 2012 a multi-million dollar boon
Published on 29 Jul, 2011
Media Contact:
For Immediate Release
CQUniversity has hosted a media event to help focus attention on Beef Australia 2012 as a major economic contributor which is also part of the social fabric of the Rockhampton and Central Queensland communities...
Deputy Vice-Chancellor Alastair Dawson joined Beef Australia Chairman Geoff Murphy at the newly branded billboard on the highway side of Rockhampton Campus, to discuss the benefits of the event to the local economy and the importance of community support and participation.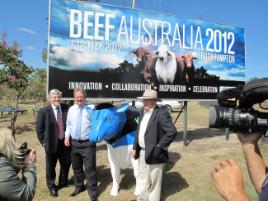 Deputy VC Alastair Dawson with Mayor Brad Carter and Beef Australia Chairman Geoff Murphy, attracting media attention at the new billboard
Click here to View/Download full-sized Image
"It's time for Rockhampton residents to start preparing for the biggest event on the local calendar from May 7-12 next year, with Beef Australia 2012 now just nine months away," Mr Murphy says.
"We hope to have 80,000 visitors so if any locals are planning holidays in May next year it would be great to have their houses available for visitors."
Mr Dawson notes that CQUniversity will host a new addition to the program, The International Beef Cattle Genetics Conference, to bring together internationally recognised experts in the commercial application of Beef Cattle Genetics and Genomics.
This event will promote the latest research and technologies, and allow producers to follow up on new business concepts and contacts.
Beef Australia is held every three years in Rockhampton, with the next event to be held in May 2012. It has been estimated that Beef Australia events provide an $8 million boost to the local economy.
Beef Australia 2009 attracted more than 70,000 visitors from 32 different countries and, over the past 12 years, Beef Australia events have directly contributed over $38 million in direct tourism spending into Central Queensland. Over the same period, approximately $158 million of export revenue have also been generated into the national economy.
Mr Murphy says Beef Australia 2012 - the Australian beef industry's national exposition - is a celebration of all facets of the beef industry in Australia and facilitates new trade and export opportunities by exposing the local supply chain to the international industry leaders.
Beef Australia 2012 will feature a number of new community-focused events:
o Monday May 7 - Labour Day Public Holiday - a community Big Barbecue
o Monday May 7 - Labour Day Public Holiday - the trade fair will be opened a day earlier than previously to allow for greater local community participation
o Friday May 11 - a community concert will be held at the Rockhampton Showgrounds
Details are available via http://beefaustralia.com.au/
ENDS