School seniors can enjoy Camp Discovery during summer holidays
Published on 08 Nov, 2012
Media Contact:
For Immediate Release
Senior school students who are looking for fun summer holiday activities are invited to apply for CQUniversity's Camp Discovery, where they can explore the world of Arts, Humanities and Professional Communication.
The three-day event will be held on Rockhampton Campus from January 22-24 and includes all meals and accommodation at the student residences.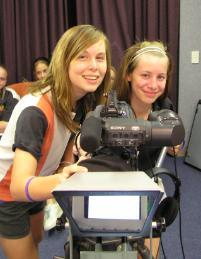 Visiting students enjoy a previous campus experience activity
Click here to View/Download full-sized Image
Interested students from anywhere in the Fitzroy region can access nomination forms via www.cqu.edu.au/campdiscovery or their school office. Nominations should be lodged via the school office before the end of the school year to have a chance for selection, as places are limited.
Details are available via Claudia Vaile on 07 5440 7046 or schools@cqu.edu.au .
ENDS