Australia's most widespread Uni drives home that staff safety really matters
Published on 05 Apr, 2012
Media Contact:
For Immediate Release
CQUniversity has campuses stretching from Mackay to Melbourne and staff members often drive hundreds of kilometres just to get to lectures and meetings at different sites.
With staff travel being one of the University's major risks, academics and professional staff who are often on the road will soon have university-subsidised access to defensive driving courses.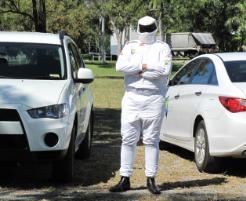 VC Scott Bowman dresses in his 'top gear' to drive home the point about staff safety
Click here to View/Download full-sized Image"We thought it would be a great opportunity to promote to staff that we are committed to their wellbeing, as well as showing our wider communities that safety matters to us," says Vice-Chancellor Professor Scott Bowman.
"We don't want any tragic circumstances where staff come to the attention of students graduating from our Paramedic Science and Accident Forensics programs."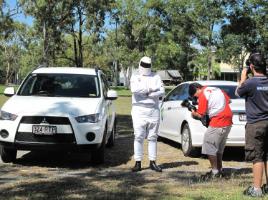 Professor Bowman corners media attention
Click here to View/Download full-sized Image
Staff who regularly drive to other campuses as part of their duties are encouraged to attend defensive driver training to increase their knowledge of vehicle safety and fatigue management.
There are a number of training providers and dates available. Staff should speak with their managers regarding a suitable course date and provider.
CQUniversity has campuses and delivery sites in Mackay, Emerald, Rockhampton, Gladstone, Bundaberg, Noosa, Brisbane, the Gold Coast, Sydney, Melbourne and Geraldton, as well as a research centre in Adelaide.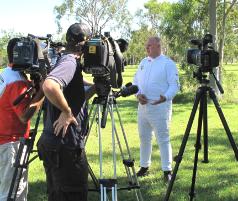 Unmasked - Professor Bowman continues his interview
Click here to View/Download full-sized Image
ENDS