From Nepal to Vanuatu, Sherrie has charitable vision
Published on 24 Apr, 2013
Media Contact:
For Immediate Release
Sherrie Lee was recognised for her service in remote areas of Nepal whilst enrolled as a CQUniversity Nursing student...
Now the recent graduate has teamed up with Ricco Yasso (previously from Tanna Island) and Vicki Platts (also a graduate from CQUniversity), together leading efforts to bring basic healthcare to Tanna Island in Vanuatu.
Sherrie and Vicki both juggle full-time Registered Nurse positions at Hillcrest Rockhampton Private Hospital with management committee positions for Bridging Health Inc. Ricco Yasso also works full-time while dedicating time to the charity, holding the position as Vice-President.
Donations can be made to Bridging Health Inc via Bank of Queensland BSB 124 001 (account number 219 593 42).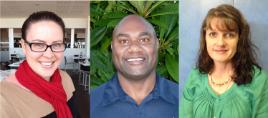 Sherrie Lee, Ricco Yasso and Vicki Platts share a goal to help on Tanna Island
Click here to View/Download full-sized Image
"Bridging Health is a recent registered incorporated charity formed after an ex-villager of Tanna Island, Vanuatu, approached a nursing student to provide healthcare to their community," Sherrie says.
"The initial idea was developed after seeing local village children playing with infected leg wounds and the community having inadequate healthcare available to successfully enable good wound healing.
"From this observation, planning commenced to develop a charity to meet the community's needs of providing basic healthcare. This vision is to help less fortunate communities by offering healthcare by qualified health care professionals, instigating a healthier future."
Bridging Health Inc is now planning free health clinics, with the first scheduled for June/July next year, allowing ample time to prepare and gather resources.
"Bridging Health Inc will undertake various fundraising activities allowing for the purchase of much-needed resources, as well as recruiting many enthusiastic and qualified healthcare and non-healthcare professionals," Sherrie says.
Sherrie can be contacted via infobridginghealthinc@gmail.com or 0438 121 617 if anyone would like to offer help with the project.
LINK for details about our Nursing programs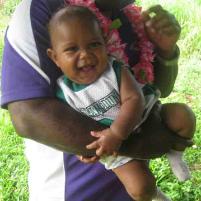 A Tanna Island child who could benefit from next year's health clinics
Click here to View/Download full-sized Image



ENDS