Hortense and Eryne focus on water and sunscreen during intern visit
Published on 13 Jul, 2011
Media Contact:
For Immediate Release
French interns Hortense Bulard and Eryne Tiran have enjoyed the opportunity to visit the unique waterfront setting of CQUniversity Gladstone Campus, where they were supervised by Dr Scott Wilson.
However, their focus on water and sunscreen, respectively, has been based on legitimate research.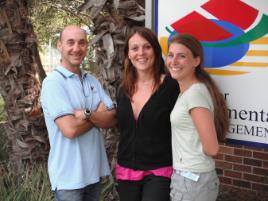 Dr Scott Wilson in Gladstone with visiting French interns Hortense Bulard (right) and Eryne Tiran
Click here to View/Download full-sized Image
Over the past three months, Eryne has been undertaking laboratory trials to examine if the nano-particles in sunscreens have toxic effects on native aquatic fauna and flora, including crustaceans, jellyfish and duckweed.
Meanwhile, Hortense has been conducting research in conjunction with Gladstone Area Water Board, characterising the natural organic matter in the drinking water supply as an indicator of contaminant loads.
Both interns are based at the Engineering College of Chemistry in Rennes (ENSCR) and were visiting under an occupational training sponsorship from CQUniversity's Centre for Environmental Management.
ENDS