Understanding of 'stigma' could lead to better help for gamblers
Published on 06 Jun, 2013
Media Contact: Dr Phillip Donaldson via OR 07 4150 7136 or 0401 808 009 or Dr Matthew Rockloff via 0438 377 625 or
For Immediate Release
CQUniversity's reputation for gambling research is paying off with three fresh project grants worth a total of $330,000 secured in the space of one week...
One of these new projects, led by Dr Phillip Donaldson, will seek the first ever validated tool for assessing the stigma associated with gambling; comparing the stigma 'felt' by gamblers with the actual level of judgment levelled at gamblers by those in the wider community.
"A scale that measures stigma related to gambling behaviour will provide researchers, policymakers, industry bodies and clinicians with a tool that contributes to a growing understanding of the gambling experiences of individuals and the impacts of gambling on communities," Dr Donaldson says.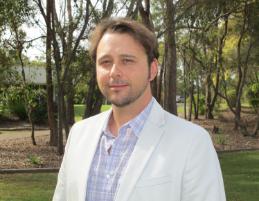 Dr Phillip Donaldson
Click here to View/Download full-sized Image
"We will be able to better understand how stigma is experienced by both recreational and problem gamblers, and how this might affect people seeking help for their gambling problems."
The 'stigma' research led by Dr Donaldson will progress thanks to $55,000 from the Victorian Responsible Gambling Foundation, with help from co-authors, Dr Talitha Best and Erika Langham.
Dr Donaldson is also on the research team for a $132,000 Victorian Responsible Gambling Foundation grant project examining electronic gaming machine (EGM) environments that contribute to excess consumption and harm.
Led by Associate Professor Matthew Rockloff, the project team also includes Dr Matthew Browne, Dr En Li and Erika Langham. They will systematically analyse the environmental contexts of online, mobile and venue-based poker machines to determine which combinations of environmental and contextual features contribute to excessive gambling consumption and harm.
CQUniversity's Experimental Gambling Laboratory researchers are also involved in a new $143,000 project for the design of poker machine pre-commitment features, which is preparatory work for a trial in the Australian Capital Territory. This project is funded by the Department of Families, Housing, Community Services and Indigenous Affairs, and will also be led by Assoc Prof Rockloff.



ENDS