CQU hosts successful Darumbal sites tour
Published on 25 May, 2006
Over 50 people celebrated rain falling on traditional Darumbal sites as they joined a Central Queensland University Community Program tour earlier this week.
Facilitated by Bob Muir, a descendant of the Woppaburra people, the tour of significant local Darumbal sites included Mount Archer National Park, Mount Jim Crow National Park, Bluff Point National Park, Tanby Point and Mount Wheeler.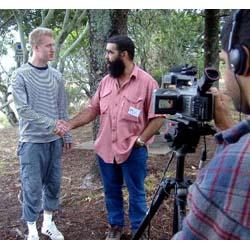 Councillor Mary Carroll and the crew from Bush TV's Murri Minute joined in the tour, along with staff and students from CQU's Nulloo Yumbah 'Foundations of Indigenous Learning' course, two of whom are from overseas.
Mr Muir spoke about the Darumbal Nation, bush tucker, local totems, Dreamtime stories, massacres and much more. The extent of the Darumbal Nation was made clear from the top of Mt Archer and the importance of the Fitzroy River and surrounding mountains as sources of food over hundreds of years was explained.
"Dreaming stories and tales of tradition, ingenuity, hardship and the long slow struggle to regain identity and to maintain important heritage sites both in Rockhampton and at the coast, were thoroughly appreciated by those on this first tour," CQU Community Program Coordinator Glenys Kirkwood said.
"As part of CQU's commitment to the way forward, this tour was a perfect opportunity for the general public and some CQU Nulloo Yumbah students to actually walk through Darumbal history".
"Bob Muir is an excellent communicator and I believe every single person went home with a well-rounded understanding of the significance of 'country' and the interwoven history of our original inhabitants and European settlement and the need to preserve both," Mrs Kirkwood said.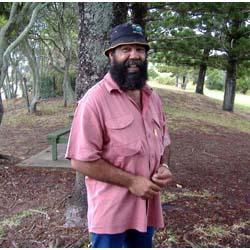 The response to the tour has been so great that a follow-up tour on June 5 has been planned to accommodate all bookings.
CQU acknowledges that its original campus is located on ceremonial land which is spiritually significant to the Darumbal people and as part of its commitment to the way forward, this tour was planned as both an enjoyable and educational experience for members of the public.
Photo above: Darumbal/Woppaburra descendant Bob Muir shows the extent of traditional Darumbal lands from the top of Mt Archer.
Photo left: Looking out over Woppaburra land, CQU Nulloo Yumbah undergraduate student Marcus Ceder from Sweden, is interviewed by traditional Woppaburra man Bob Muir, for Bush TV.