Experts gather to discuss mining innovation
Published on 23 February, 2012
Industry experts from across Australia gathered at CQUniversity Mackay Campus this week to discuss the implementation of technology in the mining and resources industry and the important role of education as critical enabler in the future of mining.
Mining Round Table 2 enabled discussion by 25 leaders in the mining, resource, engineering, Information, Communication & Technology (ICT) and education industries.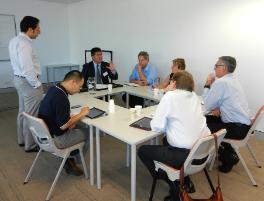 Prof Pierre Viljoen addresses one of the Roundtable workshops
The program focused on how tertiary education could be utilised to combat the skills gap, the role that ICT will play in the future of the mining industry, and robotics and automation being the key drivers of the future productivity in mining.
Hosted in conjunction with CQUniversity, Business-Higher Education Round Table (BHERT) and CSC, the event enabled open feedback and discussion on some of the great challenges facing the industry.
CQUniversity Pro-Vice Chancellor (Community & Engagement) & Head of Campus Professor Pierre Viljoen detailed plans for a proposed Centre for Sustainable Mineral Automation and Robotic Technologies, a world-class engagement, education and research centre focused on applied and user-driven mining innovation.
"One of the biggest challenges facing the Mackay region is the attraction and retention of skilled workers," Prof Viljoen said.
"The SMART Centre will attract both national and international skilled workers to the region."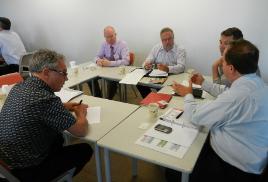 Mining Roundtable participants in workshop mode
Director of Natural Resources Centre of Excellence at CSC, Dr Jeremy Davies, explained the future capabilities of the mining industry with the use of Information Communication Technology.
"Integrating technology into the mining industry will allow companies the ability to acquire and manage extremely large data sets and the ability to rapidly visualise, analyse and communicate complex issues," Dr Davies said.
During the discussions, Mackay Area Industry Network (MAIN) managing director Narelle Pearse outlined that there are more than $13 billion worth of projects in progress and another $92 billion worth of projects yet to be established in the region.
"By 2020, the Bowen Basin's coal production is predicted to grow from 200 million tonnes per annum to 400 million tonnes per annum," Ms Pearse said.
"We need to be using innovation to cope with the resources boom."