CQUni theatre students tap into major production
Published on 22 July, 2013
Central Queensland Conservatorium of Music (CQCM) Bachelor of Theatre students will tap their way into audiences hearts as they prepare for their second major production of the year, 42nd Street.
One of Australia's top music theatre directors and choreographers Thern Reynolds, who is based in Sydney, has been working with students as they prepare to showcase the Broadway musical production.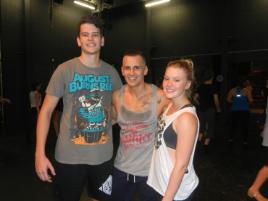 Thern Reynolds (middle) with students Daniel Simpson and Laura Garrick. Head of Theatre at CQUniversity, Dr Judith Brown said a key feature of CQCM programs is that students benefit from the guidance, direction and mentoring by renowned visiting artists and directors.
"It's a fantastic opportunity to welcome professionals in the industry who provide inspiration, insight and expertise to enable students to reach for the stars and realise their potential - and this year is no exception."
Set in a Broadway theatre of the 1930s, 42nd Street is a show full of lively tap dancing, that tells the story of a young dancer and her rise to stardom in a Broadway show. It includes the musical hits You're Getting to Be a Habit with Me, Dames, I Know Now, We're In the Money, Lullaby of Broadway, Shuffle Off to Buffalo and Forty Second Street.
"This stunning production showcases the talents of our students in acting, singing and dancing," Dr Brown said.
"It's shaping up to be a fantastic production for a wide range of audiences."
The first show will kick off on Thursday, 1 August at 7.30pm and will continue on Friday, August 2 at 11am and 7.30pm, Saturday, August 3 at 2pm and 7.30pm and Sunday, August 4 at 2pm at the CQCM Theatre, Boundary Road, Ooralea.
Tickets are selling fast, so be quick to avoid disappointment. For ticket sales or more information, phone 4940 7800.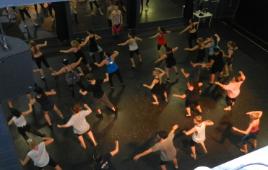 Students during rehearsals.