CQUni leaps into enrichment program with Pioneer State High School
Published on 22 July, 2013
CQUniversity is partnering with Pioneer State High School to develop extra learning opportunities for high school students through an innovative new program.
The recently launched Learning Excellence at Pioneer (LEAP) program will help gifted and talented students flourish through specialised enrichment projects which are linked to a number of displine areas at CQUniversity Mackay.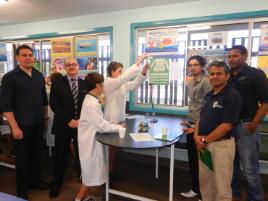 CQUniversity Head of Multimedia Associate Professor Steven Pace, Pioneer State High School principal Joel Buchholz, Pioneer State High School students, CQUniversity engineering student Tony Maggi, Senior Lecturer in Engineering Dr Arun Patil and student Sasmit Dahal.During Year 8, students will work with CQUniversity staff and students on projects relating to Health Sciences, Engineering, Creative Arts and Multimedia and IT.
Pro Vice-Chancellor (Community & Engagement) and Head of Campus at CQUniversity Mackay, Professor Pierre Viljoen said students will have the chance to establish a familiarity with CQUniversity and will be able to apply and extend their learning in a university setting.
"We see this partnership as an important investment in the future leaders of this region," Professor Viljoen said.
"By working with the students, staff and community of Pioneer State High School, CQUniversity hopes to break down the barriers between high school and higher education."
The first intake of LEAP students will start in 2014.