Melbourne Campus stalwart Santoso awarded and lauded
Published on 14 December, 2011
2011 was a year of achievements and successes for Dr Santoso Wibowo who has been an academic at CQUniversity Melbourne for the past decade.
Santoso started his journey in Australia as an engineering student in 1997. He then studied for the Master of Information Systems at CQUniversity Melbourne. Subsequently he went to work as a production engineer for a manufacturing company in Malaysia. However, his love for Australia and the University couldn't keep him away for long. He migrated to Australia in 2001 and joined the University as a casual lecturer/tutor.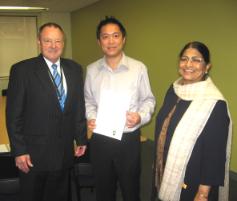 Santoso Wiibowo congratulated for his efforts in 2011.Since then he has been a lecturer in the Faculty of Arts, Business, Informatics and Education delivering information systems management courses for both undergraduate and postgraduate programs. During the period, he has continued to pursue the philosophy of lifelong learning and has obtained a Master of Business by research majoring in business information systems and a Doctor of Philosophy from RMIT University, in 2008 and 2011 respectively.
Very few colleagues on the campus knew of his continuous intellectual and academic achievements during this time. Many were surprised when this year in July he announced the acceptance of his PhD thesis. The excitement had not fully settled when another announcement was made of his promotion to senior lecturer on the campus. Santoso has helped many colleagues truly understand what quiet achievement means, with all these qualifications, the long list of published research in world renowned publications and presentations at multiple international conferences. His pace has also been most impressive as he completed his thesis one year before the scheduled time.
Santoso is also a greatly appreciated and liked teacher at the University. He believes that not all students learn in the same way and therefore it is important to incorporate different learning styles to stimulate the learning environment. He also places emphasis on motivating and creating opportunities through delivery of the course, and by providing real-life experiences to help students build their interest and understand things better.
Encouraged and recommended by his colleagues, Santoso was a nominee of the Learning & Teaching Tier 1 and Tier 2 awards from the metropolitan campuses. In recognition of all these wonderful successes and efforts, the Deputy Vice-Chancellor (International) Professor Ken Hawkins and the Melbourne Campus Director Darryl Stewart presented encouragement certificates to Santoso late last month.
It has also been a busy year for Santoso on the family front. He and his wife Lillian were blessed with a beautiful baby daughter earlier this year.
And it's not stopping here. Santoso has plans to continue researching and publishing and, who knows, he may even complete a second PhD qualification or a post-doctoral qualification soon.