CQUni backs unsung heroes of early learning
Published on 14 September, 2012
A leading Sunshine Coast education lecturer has called for more recognition for early childhood educators as the sector spent a day celebrating its unsung heroes.

CQUniversity Lecturer in Early Childhood Education Kathy Bauer used her launch of Childcare Queensland's Early Childhood Educators Day in Coolum's Tickle Park to urge the community to get behind those who provide the building blocks for childhood learning.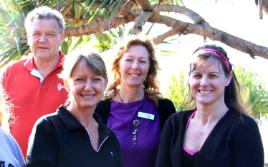 John Keast and Kathy Bauer (back) celebrate with Sunshine Coast childhood educators to raise awareness of their role in early learning"There has been a monumental shift over the past decade in the way that child care centres are perceived by the public from being a caring environment to a service that delivers quality education as well as care," Ms Bauer said.

"This has stemmed from recognition that early childhood programs are integral in developing the linguistic, cognitive, social and emotional foundations that help children succeed.

"But while the community is aware of the carer role early childhood educators play, the education role needs to be better appreciated and understood, and
educators deserve respect and admiration for their work.

"Without this recognition we won't be able to attract quality educators needed to prepare our youngest learners for success at school and in later life."

Ms Bauer said Early Childhood Educators Day was an opportunity to publicly acknowledge the importance of educators in providing quality education and care to children in the early years.

She said CQUniversity, which offered an early childhood education program at its Noosa Campus, was a natural partner with Childcare Queensland for the event.

"CQUniversity prides itself on engaging with the community and we feel it's very important to advocate for the improvement of early childhood education and help raise the sector's profile," Ms Bauer said.

Childcare Queensland Vice President John Keast said there were plans to take the Early Childhood Educators Day to the rest of Australia from next year.

"On the Sunshine Coast and across Queensland our educators enjoyed a day of worthy celebration," Mr Keast said.

"In 2013 we plan to make this day a national event for all educators in the early learning sector."

CQUniversity's Bachelor of Learning Management (Early Childhood Education) is designed for those who aim to pursue a career as an early childhood teacher.