Pond for pond, 'vulgaris' fuels the most interest as a biodiesel
Published on 14 March, 2013
Vineela Challagulla has completed her doctoral research looking at the potential of 'bio-prospecting' microalgae sourced from water bodies across Central Queensland...
She has also been testing the viability of using Near Infrared Spectroscopy (NIRS) to assess biomass and the concentration of lipids, the fatty acids which contain hydrocarbons.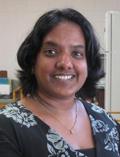 Vineela Challagulla is looking forward to graduation on March 21
Her study indentified a local strain of Chlorella vulgaris with promise in terms of oil content and growth rate.
"Bioprospecting of microalgae may be extended to different seasons, locations and water habitats (especially marine, waste waters and hyper-saline) in Queensland," Vineela says.
She says her use of NIRS was successful for assessing biomass and lipid content and could be further applied to assess the lipids' fatty acid chain lengths and the degree of un-saturation, which play a major role in the quality of biodiesel.
Vineela is now looking forward to graduating at the next Rockhampton ceremony on March 21, having spent four years as a research higher degree student at CQUniversity.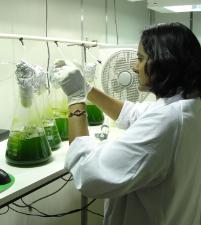 Vineela in the laboratory checking samples
Originally from the southern Indian state of Andhra Pradesh, Vineela completed her Masters in Microbiology in 2001 and then gained almost eight years of research experience with the International Crops Research Institute for the Semi-Arid Tropics, before coming to CQUniversity.
Her PhD has been supervised by Professor Kerry Walsh and Associate Professor Larelle Fabbro.