Social media survey studies how we think, act and feel
Published on 20 June, 2013
How has Facebook affected your interactions with others? How do you feel when you meet new people and how big a role does social media play in your dealings with others? ...
These are the questions being posed by CQUniversity Psychology student Fiona O'Farrell in her thesis on 'Interpersonal Sensitivity, Facebook Use, Self-Esteem and Loneliness'.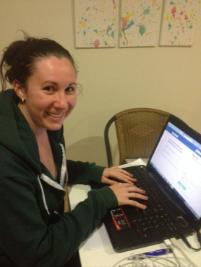 Fiona O'Farrell, PhD student. Fiona said the study will investigate associations between expectations regarding interactions with others, Facebook use and psychological functioning.
She's inviting Australians who use Facebook, and are over the age of 18, to take part in the study.
Once the data is received, Fiona will analyse the information and use it to prepare a thesis as a requirement of the Bachelor of Psychology program at CQUniversity.
The survey will close on July 1 and results are expected to be finalised at the end of October.
Fiona, who is originally from Yeppoon, is doing her fourth and final year of Psychology. She hopes to do psychology work with youth upon completion of her studies.

If you are interested in obtaining a brief summary of the results of this study or if you require any further information regarding this study, please email fiona.ofarrell@cqumail.com .
The survey is available here https://www.surveymonkey.com/s/3TX3KP8