Helen is key ingredient of Uni's new programs
Published on 05 August, 2011
As CQUniversity broadens its suite of programs there are many working tirelessly behind the scenes to ensure students get much more than they signed up for.
The University has recently launched a list of new programs, particularly in the field of allied health, and is continuing to develop and market new programs in this arena. It's a process that appears seamless, but realistically involves huge effort from both lecturers and support staff.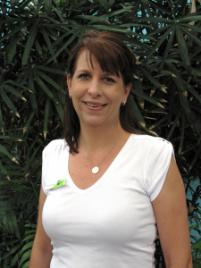 Education developer Helen Keen DyerPlaying a key role in the development of CQUniversity's new programs has been Bundaberg's Helen Keen Dyer, an education developer who has vast experience in producing innovative and engaging course content.
"I have been fortunate enough to work on the new suite of Allied Health programs and the conceptualisation of a new postgraduate eLearning program," Helen said. "Playing a part - albeit a small one - in the expansion and exciting new direction of the University is very rewarding and motivating."
"The biggest challenge has perhaps been the pace of development. As a new member of staff at the University I am conscious of the need to quickly get myself up to speed with the University's business so that I can fully contribute to its agenda."
It appears she's doing just that, receiving overwhelming praise from the Dean of Health and Human Services, Professor Andy Bridges. "It has been invaluable to have Helen's expertise to call on in developing the content for our new Allied Health programs, ensuring that learning outcomes are appropriate and effectively assessed. She has become a central part of our team."
Helen's contribution to the pedagogical design of the University's new e-learning programs has also been applauded by Dean of Education, Helen Huntly. "Helen's contribution has allowed us to create a program that is characterised by thoughtful and explicit learning outcomes, well-conceptualised courses and cohesive program structure underpinned by contemporary theoretical and practical skills and knowledge."
It's a skill set that Helen has acquired from years of experience in education program development having spent over a decade involved in education programs for the Department of Community Safety (previously Emergency Services).
However Helen says it hasn't been without its challenges. "My role primarily is about what I can bring to the University community and lecturers to help them to educate their students," said Keen Dyer. "One of the biggest challenges in this role is developing learning objects for such different learning styles and for such a broad range of study areas."
Despite the challenges, Helen's convinced she has one of the best jobs around. "I get to indulge my passion in curriculum development and instructional design every single day, which I think is a pretty enviable position to be in.
"It is wonderful to be part of the initiatives and projects that push the University into new waters and continually improve opportunities and experiences for students."
And as for working out of CQUniversity's Bundaberg campus, Helen says it's just 'fantastic'. "I couldn't imagine being anywhere else."