CQUni students take on ambassadorial role in capital
Published on 24 April, 2013
Two CQUniversity students have been recognised in the state's capital as 2013 Brisbane International Student Ambassadors.
Azadeh Faaliyat from Iran and Edward Kasamba from Uganda are among 33 new advocates from 29 countries. They were congratulated by Brisbane City Lord Mayor Graham Quirk recently.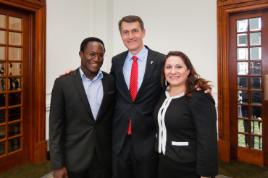 Edward Kasamba, Lord Mayor Graham Quirk and Azadeh Faaliyat at City Hall. As part of the program, the ambassadors will share what it's like to study and live in Brisbane - and their educational journey at CQUniversity.
Azadeh is studying a Master of Management (International Business) while Edward is studying towards a Master of Business Administration.
Edward said since coming to Australia in 2012, he has been able to explore parts of central and northern Queensland. He is looking forward to his time as a student at CQUniversity
"Australia's education system ranks among the top ten in the world and as a country, Australia ranks among the top five in the world by standard of living index."
"Those facts alone were enough to convince me about my choice for Australia as a study destination. I would definitely like to live and work in Australia when I complete my studies. It is a very beautiful country and I appreciate the way of life of the people in Australia."
CQUniversity Vice-Chancellor Professor Scott Bowman congratulated Azadeh and Edward and looks forward to hearing about their experiences.
Cr Quirk said the ambassadors were selected from 178 applicants; a 140 per cent increase since the program began in 2009.
"International education is Brisbane's biggest export industry, injecting $5.1 billion into the local economy and generating more than 20,000 local jobs.
"These enthusiastic international student ambassadors will help us grow the industry even further by promoting Brisbane as a leading study destination in their countries of origin."
The 2013 program includes students from countries including China, India, Vietnam, Malaysia, Saudi Arabia, Thailand, Singapore, Brazil, Colombia, France, Germany, Hong Kong, Iran, Japan, Pakistan, Peru, Philippines, Spain, Sri Lanka and the USA; and for the first time in the program's history, students from Bosnia, Cambodia, El Salvador, Italy, Libya, Uganda and Zimbabwe.
Cr Quirk said the honorary appointments were for one year. In that time, the ambassadors will use a variety of social media and digital tools, including Facebook, Twitter and the recently relaunched Study Brisbane website, to communicate their real life experiences.
"International students contribute so much to Brisbane and not just on an economic level. They help create a cosmopolitan, vibrant city and strengthen our network with cities around the globe, creating lifelong relationships," he said
The student ambassador program was established by Brisbane Marketing's Study Brisbane (http://www.studybrisbane.com/) program in 2009 and is open to both domestic and international students in Brisbane.