Sydney students volunteer to help homeless youth
Published on 05 August, 2011
A team of CQUniversity Sydney students and staff recently volunteered at The Exodus Foundation, a charitable organisation that assists homeless and abandoned youth, and other people in need.
This is part of an ongoing commitment, as CQUniversity Sydney will send a team of volunteers once a month to assist The Exodus Foundation. Volunteers play an integral part in the Foundation's work and over 1000 people donate time to help its services.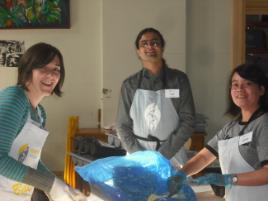 Helping out in the kitchen to feed homeless youth
CQUniversity staff and students volunteered in The Exodus Foundation's Loaves & Fishes Free Restaurant in Ashfield, which serves food to the homeless.
The team helped set-up, serve and clean-up lunch for approximately 250 homeless guests. This opportunity was enjoyed by all who took part, with students and staff engaging with The Exodus Foundation's clients and other volunteers.
Students volunteered their time and in return reaped the benefits of an experience emphasising collaboration and improved communication skills.
Eliza Babajews, the coordinator for CQUniversity's TECC (Training, Employment and Career Coaching) office says "the students were able to experience a way of life they have not been exposed to, or did not think was part of a wealthy society like Australia".
"Students added it was a great opportunity to get involved with the local community and to help to improve the lives of those less fortunate. It was a fun and a beneficial experience for staff, students and clients of The Exodus Foundation alike."
Ms Babajews says students can use some of the skills gained to make them more job ready.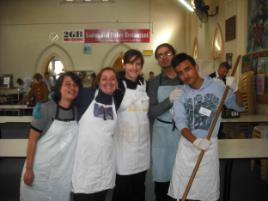 Helping out in the kitchen to feed homeless youth