Paramedic educators get healthy diagnosis
Published on 11 July, 2013
Paramedics have once again been voted the 'most trusted' profession and CQUniversity's Paramedic Science educators have just sailed with flying colours through a site evaluation visit by the Council of Ambulance Authorities (CAA)...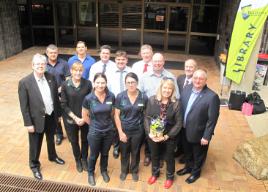 LINK for a larger image of our Paramedic Science educators and visitors from the CAA
Program leader Anthony Weber says Readers Digest published their Most Trusted Professions list recently, with details via www.readersdigest.com.au/most-trusted-professions-2013 .
He said the CAA Paramedic Education Accreditation Scheme had provided glowing feedback after its July site visit to evaluate the CQUniversity program.
Dean of Medical and Applied Sciences Professor Grant Stanley said the CAA panel included senior Ambulance Service Executives (from various states including Queensland) and senior academics.
"They praised and commended many aspects of our program, staff and operations but what really stood out, for them, was the tremendous teamwork and engaged learning," Professor Stanley said.
"They were astounded by the spirit of cooperation across the whole team i.e. paramedic academics, professional staff, technical staff, academics providing the service teaching, etc. otherwise known as teamwork. They complimented what I have observed and known for some time - that is the tremendous teamwork and collegiality that exists in our School.
"We are the only distance education paramedic program in the country and the panel admitted to their scepticism (before the visit) about how effective this can be as a learning modality. They left the University convinced that this is the way forward for education and that we are setting the standard for distance education in Australia."