'Dusty' sprinkled with Uni-linked talent
Published on 14 March, 2012
The story of 'the original pop diva' Dusty Springfield will come to the stage at the Pilbeam Theatre in Rockhampton, featuring a cast sprinkled with Uni-linked talent.
Lead performer Amanda Locker, who plays the title role of Dusty, is a Performing Arts and Learning Management graduate.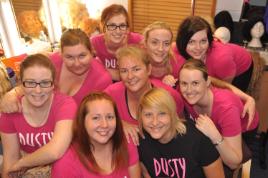 Amanda Locker (black shirt) with L-R Laura Sinclair, Jacinta Cran, Katie Ross, Georgia Sullivan, Julianne Webster-Scott, Nadene Housman, Melissa Fenlon and Jessica Earle
Other cast members include: Katie Ross (Performing Arts graduate and current Marketing Directorate employee); Laura Sinclair (current Sociology & Literary Studies student); Jacinta Cran (Arts/Education graduate); Julianne Webster-Scott (Marketing graduate); Melissa Fenlon (Music Theatre graduate); Jessica Earle (current Allied Health student); Nadene Housman (Education graduate); and Georgia Sullivan (current Allied Health student).
Dusty is a Rockhampton Regional Council production. Details via THIS LINK ...
or by phoning the box office 4927 4111 .
.
Dusty will be staged on:
Friday 23 March at 7.30pm
Saturday 24 March at 7.30pm
Sunday 25 March at 3pm
Friday 30 March at 7.30pm
Saturday 31 March at 7.30pm
Sunday 1 April at 3pm