Away from coalface, how do families cope?
Published on 27 June, 2013
Mining is crucial for the economy but the fly-in-fly-out and drive-in-drive-out lifestyle can impact on relationships, families and communities.
With this mind, CQUniversity Psychology student Abby Chapman is surveying the experiences of resource sector employees and their partners.

Psychology student Abby Chapman has a survey focus related to the resource sector
"We are interested in finding out about your relationship satisfaction and perception of family functioning in connection with your FIFO/DIDO lifestyle," she says.

Participants will be required to partake in a 20-30 minute survey about employee work and roster satisfaction, partner relationship satisfaction and family dynamics.
Those who complete the confidential survey (via http://surveymonkey.com/s/FIFODIDOemployeeandpartner ) can go into the draw to win one of two $50 Coles/Myer vouchers.
To be eligible to complete the survey you must be an employee or a partner of someone working in the resource/mining sector engaging in FIFO/DIDO roster arrangements. Individuals must be in a current relationship and be over the age of 18.
Questions about the project can be addressed to Ms Chapman via abby.chapman@cqumail.com.au or Professor Drew Dawson at drew.dawson@cqu.edu.au .
Based in Rockhampton, where the resource sector has a huge economic significance, Ms Chapman has drawn on several influences to shape her fourth-year project.
She not only works for Relationships Australia as a child contact support worker, but her father runs a labour-hire company, and her sister's husband is a DIDO worker with the LNG industry.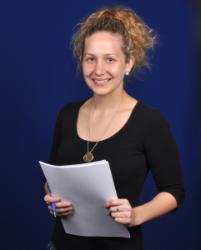 Abby Chapman
"I've also found there's not been a great deal of research yet on this specific topic," Ms Chapman says.
Longer-term, Ms Chapman is also interested in the field of child developmental psychology, working with children and their families.