Short of another flood cycle, Cup on Wheels is back on track
Published on 24 November, 2011
Back in January, the CQUniversity Cup on Wheels was among many events postponed due to extensive flooding throughout Queensland.
Now this popular cycling event has been scheduled for December 2-3, across a Friday and Saturday program* at the Kenrick Tucker Velodrome in Berserker St, Rockhampton.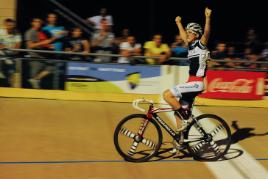 Action from a previous Cup on Wheels
The latest breaking news is that world and Olympic champion Anna Meares will attend the Cup on Wheels in a non-racing ambassadorial role (as her racing focus is the London Olympics next year).
CQUniversity has sponsored the Cup on Wheels for almost a decade, as one of several initiatives to support cycling in the CQ region.
The University's partnership with Rockhampton Cycling Club has been strong and multi-faceted, involving sponsorship, research, access to facilities and talent identification (TID).
In addition, a number of students, staff members and graduates have been involved with the club and the University is part of the national Elite Athlete Program which enables athletes to fit their studies around competition commitments.
* Racing starts at 6pm on the Friday and 3pm on the Saturday.