Australia's own 'Mr Roboto' visits Rocky
Published on 09 July, 2013
In the words of the famous Styx song; Domo arigato Mr Roboto!
One of Australia's foremost educational robotics specialists, Dr Damien Kee has been invited to visit Rockhampton as a guest for the 11th annual CQ Junior Robotics Competition hosted at CQUniversity's Community Sports Centre on July 26.
Since 2003, Damien has been conducting robotics workshops for teachers, educators and students throughout Australia and in overseas countries. In 2007, his Domabotics initiative was awarded the Peter Doherty Award for excellence in Science Education. See http://www.domabotics.com/ .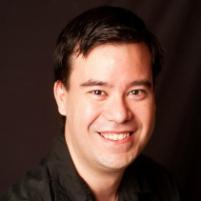 Dr Damien Kee
Dr Kee has been heavily involved with the RoboCup Junior competition since 2001, at a local, state, national and internation level. In 2009, he was elected Chairman of RoboCup Junior Australia, and Technical Chair of the RoboCup Junior International Rescue Committee.
Damien is the author of several teacher resource books and is the former editor-in-chief of http://www.thenxtstep.com/, a website providing resources and support for users of LEGO Mindstorms around the world.
He is a member of the LEGO MINDSTORMS Community Program, a group of about 80 people around the world who consult with LEGO to make the MINDSTORMS system a better product.
Damien holds a PhD in Robotics and a Bachelor of Electrical Engineering, both from the University of Queensland, Australia.
The Rockhampton event is open to all primary and secondary school students within Central Queensland, including the area from Mackay to Bundaberg and out west to Longreach.
Entry is free for participants, friends, family and other interested spectators.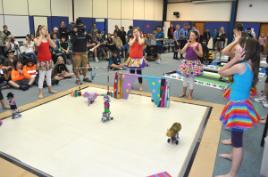 LINK for a larger image from a previous competition in Rockhampton
Registrations close at midnight on Monday July 22.
Click here for information on getting started as a participant
Click here for Information on getting started as a teacher or parent mentor
Click here to subscribe to the mentor mailing list
More details are available via http://www.cqu.edu.au/engage/cq-junior-robotics-competition