Kellie warms to the 'HHOT' team, helps homeless in Mt Isa
Published on 13 September, 2012
Mackay-based Nursing student Kellie Rundell has completed her final clinical placement in Mt Isa, after requesting a 'rural and remote' location. She experienced a range of community nursing roles, including a week as part of the Homeless Health Outreach Team (HHOT).
Kellie says she gained a lot by working within a multidisciplinary team of clinical nurses, health workers and social workers.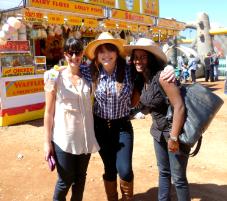 Kellie Rundell (pictured centre at the famous Mt Isa Rodeo) had the chance for social activities during her clinical placement
"All members worked together in conducting health clinics and assessments at various homeless shelters throughout Mount Isa ... as well as providing social support for people who are, or may be at risk of, facing homelessness," Kellie says.
"I was able to conduct brief health assessments on clients by checking their vital signs, wound dressings, reviewing any current medications and referring them to a General Practitioner (GP) or health service if so required.
"During this time, I was able to recognise how invaluable the Indigenous Health Workers were in encouraging the Aboriginal communities to be responsible and take initiative for their own healthcare."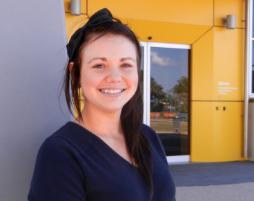 Kellie Rundell back on Mackay Campus
Kellie says she gained much more than just a clinical experience.
"Working as a member within HHOT allowed me to assess the patient holistically, and consider all factors contributing to their health and social wellbeing. It allowed me to put my cultural training, awareness and communication skills into practice in working with Aboriginal people individually and at a community level.
"The remote experience I gained through HHOT was invaluable and I definitely recommend this placement to any student searching to gain rural and remote practice."