Global Voices proves to be a life-changing experience
Published on 09 July, 2013
CQUniversity's Sherry-Kaye Savage has her eyes wide open to future opportunities thanks to her involvement in a Global Voices initiative.
She took time out from her daily life as a Physiotherapy student and Indigenous Widening Participation staff member on Rockhampton Campus to be one of six Australian delegates for the United Nations Permanent Forum on Indigenous Issues in New York. This experience followed briefings by senior politicians and government officials in Canberra.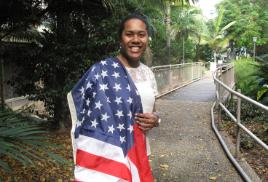 Sherry-Kaye Savage - back in Australia but with her eyes open to global opportunities
"Being thrust into this political world at the United Nations really opened my eyes to what happens behind the scenes in formation of policy and procedures," she said.
"I'm hoping to continue this sort of interest and will see where the opportunities can take me now."
Sherry-Kaye says her highlights included being part of a range of caucus discussions - including those on Indigenous Women in the Pacific and Indigenous Youth - and networking with other Indigenous delegates from around the world.
"We have common struggles and are working towards the same things," she said
"It was great seeing the steps of putting forward statements and documents for the World Conference on Indigenous Peoples next year."
Another highlight for Sherry-Kaye was meeting with the former Prime Minister of New Zealand and Administrator of the UN Development Program, Helen Clark.

Sherry-Kaye Savage (third from right) with former NZ PM Helen Clark at the United Nations
"Helen Clark invited us into her office and was really interesting; she also had a really great view from the 34th floor of her UN building," she said.
Meantime, environmental economics PhD researcher Megan Star also represented CQUniversity during a recent Global Voices Initiative; in her case at the recent Nairobi Study Tour on Sustainable Development in Kenya. Ms Star's Study Tour visited several UN institutions in Kenya before travelling in the field to observe projects on the ground.
The Global Voices Project is a Student Services and Amenities Funded partnership between the Global Voices organisation and CQUniversity.
Applications will soon open to be part of Global Voices overseas delegations from October 2013 to February 2014. Details will become available via http://www.globalvoices.org.au/ .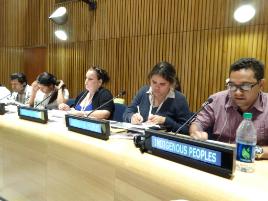 Sherry-Kaye Savage (second from left) at the United Nations