Paramedic staff and students work with special Olympics athletes
Published on 11 October, 2012
CQUniversity Paramedic Science students and staff have lent a hand treating some of the 300 competitors who were part of the Trans Tasman Special Olympics Tournament this week in Cairns.
Intensive Care Paramedic and lecturer at CQUniversity Paul Oliveri said the University was thrilled to be offered the chance to volunteer in providing first aid and paramedic services to athletes during the event.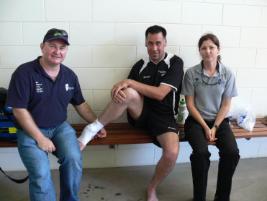 CQUniversity Paramedic lecturer Paul Oliveri (left) and Paramedic Science student Nirvana Stewart treat New Zealand Soccer team captain Hayden Smith at the Trans Tasman Special Olympics tournament. "We've been assisting in providing first aid services across two days this week at some of the main athletics events including track and field, running, walking, long jump, shot put and soccer," Paul said.
"So far we have treated about six patients per day who presented with a range of sporting injuries."
First-year Paramedic Science student Nirvana Stewart was part of the team who volunteered across two days to help out during the inaugural event.
"It has been a great experience being able to treat real patients and the competitors have been fantastic," Nirvana said.
Paul said it was a worthwhile experience for the staff and students at CQUniversity to be involved with the community and meet the athletes.
"It has been a fantastic experience for us as a team to come out and participate in this event and we would be very keen to do it again next year."
The inaugural Trans Tasman Special Olympics 2012 event has brought together hundreds of intellectually disabled athletes from across Australia, New Zealand and Vanuatu to compete in a range of different sports in Cairns from October 8 - 11. See here for more information.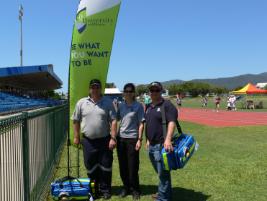 CQUniversity team of paramedics Anthony Weber, Nirvana Stewart and Paul Oliveri.