Professor's 'risky' lecture well received
Published on 19 April, 2012
Rockhampton residents recently joined CQUniversity staff and students as Professor Kevin Tickle addressed a risky subject for his Student Residential Professorial Lecture.
The free lecture at the Rockhampton Student Residence Dining Hall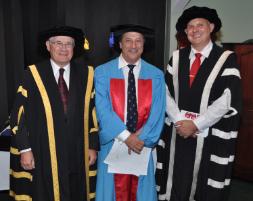 Professor Kevin Tickle is flanked by Chancellor Rennie Fritschy and Vice-Chancellor Scott Bowmancovered a potted history of understanding uncertainty and its links to gambling, its characters, and its development into wider fields.
Professor Tickle is a Pro Vice-Chancellor and Executive Dean for the Faculty of Arts, Business, Informatics and Education.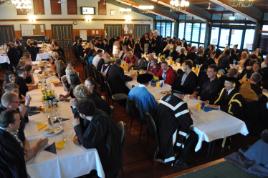 The audience for Professor Tickle's address