CQUni launches sleep labs in Adelaide, pledges to create a 'boutique' campus
Published on 07 March, 2013
CQUniversity has officially launched its Appleton Institute Sleep Research Centre in Adelaide.
Politicians, researchers, students and CQUniversity Council members gathered for the event at 44 Greenhill Road in Wayville on Monday (4 March).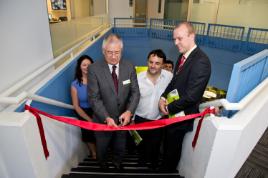 Watched by City of Unley Mayor Lachlan Clyne, Chancellor Rennie Fritschy cuts a ribbon to launch the new Centre
South Australian Minister for Employment, Higher Education and Skills Grace Portolesi addressed the gathering before Chancellor Rennie Fritschy cut a ribbon to open the new six-bed facility which has sleep isolation capabilities.
Other speakers included Federal Parliamentary Secretary for Higher Education and Skills Sharon Bird, CQUniversity Vice-Chancellor Professor Scott Bowman, Chancellor Rennie Fritschy and Appleton Institute Director Professor Drew Dawson. The guest list included City of Unley Mayor Lachlan Clyne.
June Appleton, the widow of CQUniversity's first Vice-Chancellor Dr Arthur Appleton, was also acknowledged and received a gift from the Chancellor to mark the occasion.
Professor Bowman said Appleton Institute not only houses a 30-strong multidisciplinary team providing leadership in sleep and fatigue research, with application across industry, sports and the wider society.
"We are also building a boutique campus which offers an intimate personal education experience," he said.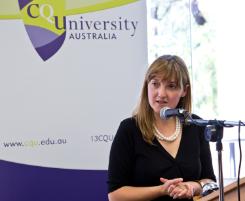 Minister Grace Portolesi addresses the launch guests
"As well as our sleep laboratory and a rail and road simulation laboratory for applied cognitive-behavioural human factors research, we offer supervision for research higher degree students, honours programs for psychology students and postgraduate programs in rail safety management and fatigue risk management.
"Our hybrid model combines the best of flexible, hi-tech content delivery with old-style tutorials to ensure students are engaging with the material."
Professor Bowman said Appleton will also become a distance education support centre for the increasing number of CQUniversity undergraduate students located in the Adelaide region.
Professor Dawson said Appleton provides a great environment for postgraduate students seeking to work with a world-class team across areas include sleep and fatigue, applied psychology, human factors and OHS, exercise physiology, cultural anthropology, human-animal interaction and statistical analysis.
"We are the ideal place to develop higher degree research students and early career research academics," he said.
"We are building Adelaide's best little university."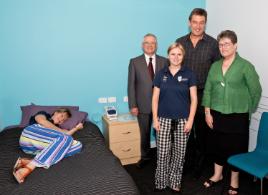 Inspecting the new Centre are L-R Chancellor Rennie Fritschy, research officer Larissa Clarkson, Appleton Institute Director Professor Drew Dawson and researcher Associate Professor Verna Blewett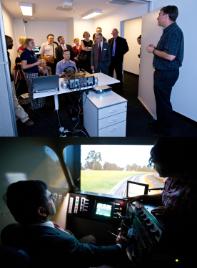 Visitors tried out the new road and rail simulation laboratory for applied cognitive-behavioural human factors research