Uni helps spread word about 'biggest book group'
Published on 04 November, 2011
As a National Year of Reading partner, CQUniversity is encouraging people to get involved with Australia's biggest book group and to vote for the book they think should represent their state or territory.
Readers can help decide the eight books that are the National Year of Reading 2012 collection. Details are available via http://www.love2read.org.au/ .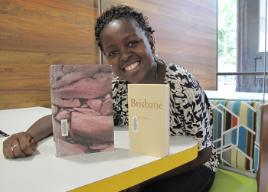 CQUni Library staff member Joyce Halwenge displays two of the books on the Queensland shortlist, 'Journey to the Stone Country' and 'Brisbane'
Shortlisted books represent the 'Australian experience' and CQUniversity stocks most of the Queensland shortlist:
- Chloe Hooper, The Tall Man, 2008, Penguin
- Andrew McGahan, The White Earth, 2005, Allen & Unwin
- Alex Miller, Journey to the Stone Country, 2002, Allen & Unwin
- Matthew Condon, Brisbane, 2010, New South Publishing
Other titles from the Queensland shortlist are available in community libraries:
- Estelle Pinney, House on the Hill, Penguin
- Ian Townsend, Affection, 2005, Harper Collins
Voting commences on November 1, online at www.abc.net.au/yearofreading and in participating libraries and book shops.