Shaun's shooting hoops to build a career in sport
Published on 14 February, 2013
Worlds away from his life in Victoria, Shaun Bruce is feeling quite at home after spending the past seven months in Cairns.
The CQUniversity Cairns Tapains Academy player said he loves the laid-back nature of the region and the weather, as well as the strong rapport he has built with fellow Taipans teammates.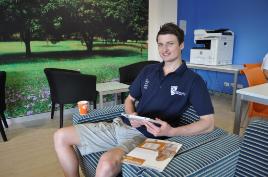 CQUniversity Cairns Taipan Academy player Shaun Bruce at the centre. "The people for starters have made a big impression on me and they have welcomed me and would do anything to make me feel at home," he says.
"I really like the weather and being able to hang out by the pool or go to the beach whenever you want - something I couldn't do every day in Victoria."
Shaun will be entering his second year of the Bachelor of Exercise and Sports Science degree, a program very much in line with his long term interest in sport and basketball.
"The reason I chose this program was that I knew it was very broad and had a lot of different opportunities - I wasn't exactly sure what I wanted to do but knew I want to be in the sports industry."
Shaun is interested in pursuing exercise rehabilitation and physiotherapy down the track, depending on the direction his basketball career takes.
A valued member of the CQUniversity Cairns Distance Education Centre's Student Ambassador team, Shaun says being a distance education student and working at CQUniversity corresponds well with his busy basketball schedule with the Cairns Taipans.
"Being a distance student is great for me as it's very flexible and fits around my training and playing schedule with the Cairns Taipans," he says.
"I have enjoyed it and I really appreciate the opportunity to work at the Cairns Study Centre. They have been great fitting in around my training schedule and helping me whenever they can."
While being away from family and friends and juggling a busy schedule can be tough at times, the 22-year old Point Guard player says the Taipans community have made him feel at home.
"Moving from Victoria to be with the CQUniversity Cairns Taipans Academy has been great for me; being able to train under the guidance of the Taipans players and using the facilities is helping me to reach my goal of being in the NBL on a full-time basis and, all going well, I will be with the Taipans for a long career."
Shaun says his sport-orientated family helped shape his love of basketball.
"Having older brothers play the sport before me meant I started at a young age so I've been playing for as long as I can remember," he says.
"A short-term a goal of mine is to be a contracted player in the NBL with the Cairns Taipans. Every kid's dream though is to represent their country so to play for Australia at a World Championships or Olympics would be a dream come true.
"A little motto for me right now is to dream big, achieve bigger."