CQUni Noosa co-hosts successful Balance-Unbalance conference
Published on 06 June, 2013
CQUniversity Noosa and Noosa Biosphere Ltd have successfully co-hosted the Balance-Unbalance international conference...

Dr Susan Davis (right) with Conference co-chairs Dr Ricardo Dal Farra and Leah Barclay
Balance-Unbalance took place from May 31 to June 2 within the UNESCO Noosa Biosphere Reserve - at CQUniversity Noosa, with satellite events conducted at The J Theatre (Noosa), and Lake Cootharaba as part of Floating Land 2013.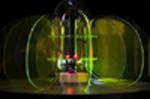 This element was part of a large installation titled 'Urban Flock' by Todd Ingalls and Mary Bates Neubauer. LINK for a LARGER IMAGE
Academics Dr Susan Davis and Angelina Ambrosetti helped to stage and research an innovative project involving Sunshine Beach State High School students, who performed an interactive drama titled Water Reckoning.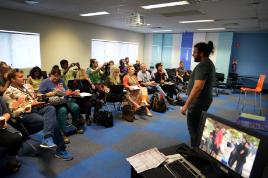 Conference participants in the CQUni Noosa lecture room
Dr Davis, who is also Noosa Biosphere Chair and a conference organiser, said the Water Reckoning drama was presented both live and online through an international Rolling Role Drama Project involving schools across the world. It will also be assessed during a London conference on 'drama for learning' in July.
"Well after about 18 months of planning it happened and the buzz at the end of the conference was so positive with many people saying it was one of the best conferences they had ever been to, and that included many in leading international cities," Dr Davis said.
"They appreciated the combination of the academic program, workshops, the friendly people, the installations and experiences of going out to Floating Land, to the gallery and getting a feel for the place.
"It will take some time to work through the flow-on and possibilities that arise for us from this experience, but we are sure there will be many positive outcomes."
There are some more photos on the homepage of the conference website http://www.balance-unbalance2013.org/ and the abstracts and full papers (submitted before the conference) are already online http://www.balance-unbalance2013.org/program--proceedings.html .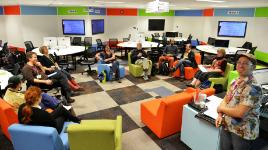 A conference session in the Collaborative Learning Lab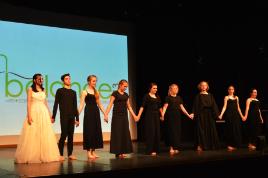 Part of the Water Reckoning project performance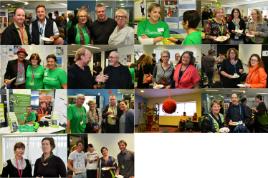 LINK for larger images