Students make most of opportunities for feedback
Published on 13 June, 2013
Hundreds of students have made the most of opportunities to provide feedback during the annual VC Student Forums series, held online and at CQUniversity campuses and study centres ranging from Cairns in the north to Melbourne in the south.
Participants made plenty of constructive suggestions, discussing everything from policing of smoking to course availability.
CQUniversity welcomes ongoing student feedback, including questions, suggestions and thoughts via communicate@cqu.edu.au. In coming months, students will gain updates on actions taken as a result of their feedback.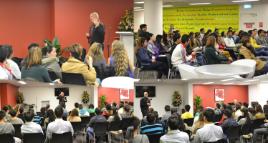 LINK for larger images. VC Scott Bowman chats with students at CQUniversity Sydney Campus