CQUni students meet Senator over barbecue lunch
Published on 10 July, 2012
Students at CQUniversity Mackay enjoyed a barbecue lunch and a chat with Senator John Hogg during his annual regional Queensland tour this week.
Senator Hogg's visit was organised by the newly established Forgan Smith Labor Club, which is run by a group of students studying at CQUniversity.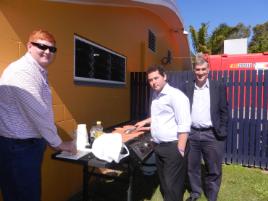 Ryan Casey, Cale Hutchins and Senator John Hogg. CQUniversity Bachelor of Learning Management student Ryan Casey is President of the Forgan Smith Labor Club, as well as Vice President of the Queensland Young Labor Club.
Mr Casey said the aim of the barbecue was to familiarise and recruit any politically minded students to the club, which currently has around ten members.
"There aren't a lot of groups like this for young people in regional Queensland so we thought we'd have a crack at establishing one after the State Election," Mr Casey said.
"We will look at working with the Rockhampton campus in getting the same kind of set up further down the track."
Senator Hogg said it was a good opportunity to talk to university students in regional Queensland about the issues that affected them.
"Young people should and need to have an interest and awareness about the real issues facing Australia," he said.
Senator Hogg also had the chance to speak to CQUniversity's head of campus, Professor Pierre Viljoen who detailed the future plans and direction of the university.
To find out more about the Forgan Smith Labor Club, contact Ryan Casey on 0400 739 455.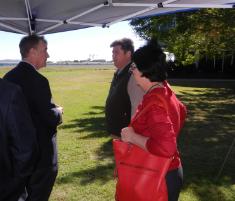 Senator John Hogg speaks to CQUniversity Mackay head of campus Professor Pierre Viljoen and Emerald campus' Cr Gai Sypher.