Campus Reception the focal point for student queries
Published on 21 February, 2013
The Rockhampton Campus Reception at the highway-side entrance to the commercial courtyard continues to be a one-stop-shop for general student queries.
A joint venture between the Student Centres and Division of Marketing, the reception aims to provide students with a central point of contact on Rockhampton Campus.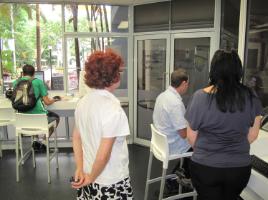 Student Communications Officer Maegan Dunn says the reception has gradually improved in terms of visibility to current and future students with 'walk-in' queries peaking at 33 on Monday last week.
"Since its opening, staff have been working on transitioning walk-in student enquiries from the Student Contact Centre in Building 5, to allow students to take full advantage of the facilities and resources offered at the Campus Reception."
Purpose-built for student enquiries, the reception is easy to find and includes facilities and resources such as:
¨ Staff to answer enquiries;
¨ access to CQUniversity and associated websites;
¨ prospectuses and brochures;
¨ assignment submission;
¨ and ID Card collection.
With Orientation for Term 1 commencing on the February 18, staff at the reception are preparing themselves for a busy week and welcome all current and prospective students who require assistance.