Creative Industries student a finalist for statewide photo awards
Published on 22 March, 2012
CQUniversity Creative Industries* student Lyn Taylor has been selected among 20 photo award finalists to be part of an exhibition at the Queensland Centre for Photography (QCP) Window Gallery in South Brisbane from April 1-29.
Based on the Sunshine Coast, Lyn is entered in the Queensland Festival of Photography Portrait Prize. The overall winner will be announced on day one of the exhibition.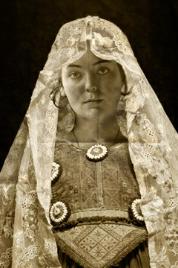 A thumbnail of Lyn's image chosen for the exhibition
Lyn found out about the QCP while studying a Diploma of Photo-Imaging through Sunshine Coast TAFE.
"We were exposed to exhibitions and contemporary photographic practice that inspired and excited me," she says.
"I determined that on leaving TAFE I would not only continue to pursue my photographic art-based practice but that I would enter industry competitions to expose myself to external feedback.

Lyn Taylor
"I was very excited to learn that I was one of the 20 finalists."
* The Graduate Certificate in Creative Industries is aimed primarily at creative and performing arts practitioners and others in creative arts industries wishing to extend their capacity to operate professionally in the creative industries in professional and creative roles.