Host team victorious as over 100 converge for Chancellor's Cup sports tournament in Rocky
Published on 11 August, 2011
More than 100 staff and students converged on CQUniversity Rockhampton Campus this week for the fourth annual Chancellor's Cup sports tournament, on August 9-10...
Teams from Melbourne, Sydney, Brisbane and the Gold Coast campuses stayed at the Capricornia Residential College on campus for the duration of the event.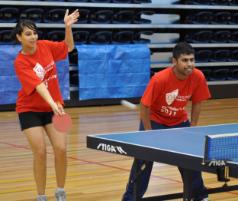 Table tennis action during the Cup. LINK for larger image. More photos in the slideshow below
The Chancellor's Cup started in Rockhampton in 2008 and has since been held at the Gold Coast and Melbourne.
Organiser Robyn Bailey says volleyball and table tennis were played in the Sports Centre, football (soccer) in the outside area and cricket on both the campus cricket ground and Juds Park just off Norman Road.
Results -
Rockhampton won overall
Brisbane won cricket by 1 run from Rocky
Rocky won Futsal 1-0 over Brisbane
Gold Coast won Volleyball by 2 points over Rocky
Gold Coast won Table Tennis over Rocky
Melbourne won wooden spoon
Brisbane won best sports