ChangeLabs rep addresses Sydney graduation
Published on 13 September, 2012
ChangeLabs representative Phill Nosworthy addressed 225 graduates during CQUniversity's ceremony in Sydney this week.
Mr Nosworthy joined the organisation in 2008 as a facilitator on the Apple-partnered program 'Beyond Chalk' and went on to lead this program before being invited to drive new partnerships and business development at an executive level.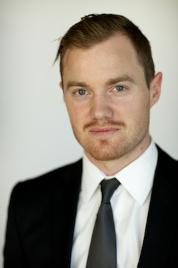 Guest speaker Phill Nosworthy
In his work with Apple, Phill worked with tens of thousands of educators, across many countries, to drive behaviour change in the area of teaching innovation and technology adoption. 'Beyond Chalk' has worked with more than 80,000 teachers around the globe, educating them about the future of technology in the classroom and paving the way for the next generation of digital learners.
Among graduates for the ceremony were PhD researcher Lyn McLintock, whose thesis was an exploration of Australian suburban fiction, and Campus Director Award recipients Ginni Uppal (Bachelor of Accounting) and Jiale Huang (Graduate Diploma of Information Technology).